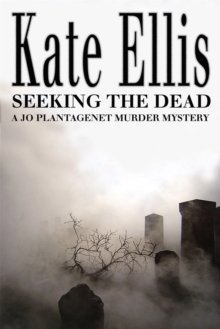 Seeking the Dead : A Joe Plantagenet Murder Mystery Bk. 1
Paperback
Description
When Carmel Hennessy begins a new job in North Yorkshire, she finds the historic city of Eborby gripped by fear.
A killer is on the prowl - a killer who binds and asphyxiates his victims before leaving their naked bodies in isolated country churchyards.
The press are calling him the Resurrection Man. Tragic events from the past link Carmel with new-kid-on-the-block DI Joe Plantagenet, who, with his new boss, DCI Emily Thwaite, faces the unenviable task of identifying the killer before he claims another victim.
The victims appear to have nothing in common but the manner of their deaths, but as Joe's investigations lead him to a pub with a sinister history, he is forced to consider that the case may have occult connections.
Then Carmel becomes aware of a malevolent presence in her new flat and, when she starts to receive mysterious threats, it is Joe she turns to first. And that is when Joe is forced to get into the mind of a cunning - and scarily ruthless - killer.
Information
Format: Paperback
Pages: 336 pages
Publisher: Little, Brown Book Group
Publication Date: 04/12/2008
Category: Crime & mystery
ISBN: 9780749909352
Free Home Delivery
on all orders
Pick up orders
from local bookshops
Reviews
Showing 1 - 3 of 3 reviews.
Review by P_S_Patrick
16/06/2015
I'm normally more of a literary fiction reader than someone who goes for genre fiction, and this book is definitely genre fiction. It is a detective murder mystery type book, set in York, which I live very close by to, and visit regularly, this being the main reason I was recommended this book. The story is pretty good, involving an occult group, a serial killer, and some tense page-turning moments, and the identity of the killer/killers is very hard to guess, with it only becoming clear right near the end. The city is portrayed accurately, though names of places are slightly changed for some reason, though those not having been to York before should get a good feel for the place, and those who have been will recognise it instantly. There are ties to Yorks colourful historical past, so readers who enjoy historical novels or have an interest in the place should enjoy the book too, aside from the more obvious audience of crime/thriller readers. The book is written well, but is never verbose, having little to set it apart from the other murder mystery books that I have read, (the few I have read I have enjoyed), apart from maybe the plot, which was well thought out, though it was probably helped a bit by the fact that I could imagine and visualise it all happening in places that I've actually been to. The characters in the story have their own personal and emotional situations to deal with, and their feelings and actions seem natural and very easy to sympathise with with, to an extent not found normaly in books written by male authors, so the book may appeal to female readers for this reason.It probably isn't quite as good as another murder mystery series set in York, the Apothecary Rose series, (which I've read most of), set in medieval York, which is also decent murder mystery genre fiction. I haven't read any of the authors other books, but I believe they all contain some historical/archaeological link along side the murders, and I will probably get round to reading some time in the future when I have got through the list of more serious titles I am meaning to read. This is fairly light fiction, I got through it in a couple of days, but it was non the less enjoyable; if you only read casually, or just want something easy to get into, and are interested in the themes, then this is an easy book for me to recommend.
Review by meags222
16/06/2015
I really liked this book. It is set in York but they name is Eborby and it has all the elements of a good mystery. It involved a schitzophrenic murdering people because he thought they were cursed by the devil. It also involved some ghosts and a little satanic ritual. I give this book 4 out of 5 stars.
Review by DeltaQueen50
16/06/2015
I picked up Seeking the Dead from my TBR shelves randomly, looking for a book that would hold my interest over the weekend. Well, this book more than held my interest - it reached out, grabbed me and kept me riveted to the end of the book.DI Joe Plantagenet works in the walled city of Eborby (York) in North Yorkshire, he and his new boss, DCI Emily Thwaite are dealing with a possible serial murderer dubbed The Resurrection Man. Victims are asphyxiated and left naked in churchyards surrounding the city. Linked to Joe by a past, tragic incident, Carmel Hennessy has recently moved to Eborby and she is slowly becoming aware of mysterious threats and presences around her, and contacts Joe for help. As Joe digs deeper into things he comes to realize that this case may have occult connections. Emily, on the other hand, worries about her husband's possible involvement.The author does a great job of seamlessly introducing her characters and it doesn't take long to warm up to them. She has a excellent eye for her settings, although why she chooses to call York by a fictitious name I don't know. The hint of supernatural fits in with both the setting and the story and I thought it was deftly handled. I found Seeking The Dead to be both interesting and fast-paced, exactly what I look for in a crime novel. I am happy that this is the first in a series of books, so I have more Joe Plantagenet cases to look forward to.
Also in the Joe Plantagenet Series series