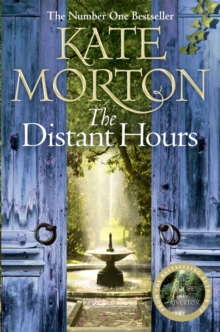 The Distant Hours
Paperback
Description
Edie Burchill and her mother have never been close, but when a long lost letter arrives with the return address of Milderhurst Castle, Kent, printed on its envelope, Edie begins to suspect that her mother's emotional distance masks an old secret.
Evacuated from London as a thirteen year old girl, Edie's mother is chosen by the mysterious Juniper Blythe, and taken to live at Millderhurst Castle with the Blythe family.
Fifty years later, Edie too is drawn to Milderhurst and the eccentric Sisters Blythe.
Old ladies now, the three still live together, the twins nursing Juniper, whose abandonment by her fiance in 1941 plunged her into madness.
Inside the decaying castle, Edie begins to unravel her mother's past.
But there are other secrets hidden in the stones of Milderhurst Castle, and Edie is about to learn more than she expected.
The truth of what happened in the distant hours has been waiting a long time for someone to find it...
Information
Format: Paperback
Pages: 600 pages
Publisher: Pan Macmillan
Publication Date: 01/05/2011
ISBN: 9780330477581
Other Formats
EPUB from £7.19
Paperback from £7.65
Free Home Delivery
on all orders
Pick up orders
from local bookshops
Reviews
Showing 1 - 2 of 2 reviews.
Review by moosenoose
16/06/2015
I delved into this book eager with anticipation after loving The House At Riverton and The Forgotten Garden. However, although this was enjoyable, it didn't live up to Mortons first two books. It was long, which is not a bad thing, but it had a tendancy to drag sometimes. Although I liked the majority of characters and was intrigued by them, I thought Percy was a nasty old battleaxe who should have been locked in a loony bin many years ago! I wasn't entirely shocked at the 'mystery' that was revealed however. If there was one thing about this book that I really enjoyed it was the additional story on The True History of the Mud Man. I would to know more on this and hope the author will do a spin off book with the full story!
Review by passion4reading
16/06/2015
Edie Burchill has never been close to her mother Meredith, who was evacuated from London to Milderhurst Castle in Kent at the beginning of WWII, where she stayed with the three Blythe sisters and their writer father, Raymond. One day a lost letter arrives for Edie's mother, originally sent by one of the sisters during the war, and Edie, observing her mother's reaction, sets out to investigate, unearthing secrets and mysteries that had been hidden for a long time.The novel starts with a fictitious prologue of The True History of the Mud Man, a children's book written by Raymond Blythe which plays a major role in The Distant Hours, and which sets the scene with its atmospheric beginning and whets the appetite for the mystery to come. But be warned: the reader has no choice but to be patient, as Kate Morton has decided to narrate in split time frames again (becoming a bit of a speciality of hers?), and has to endure lengthy character studies of the twins and their younger sister Juniper. Don't get me wrong, I perceived it as a sort of exquisite torture and sneaked off every so often to read a quick chapter in order to get to the bottom of the mystery and the characters' long-harboured secrets. Apart from the literary and personal mysteries surrounding the Mud Man story, the novel also deals with the various guises of love: parental love, love for a parent, love between siblings, love between lovers, selfish love and unconditional love, in turns touching, tragic and romantic; in short, even though I felt the characterisations of the characters, and not just the main protagonists, a little bit too detailed at times, they did help to imbue everyone with life (even the dogs) and turned them into dear friends by the end of the last page, so that I was sad to leave them. And even though I felt the setting for the epilogue was a coincidence too far, in my opinion this is Kate Morton's best novel yet. I can't wait for her next one to be published.P.S.: An appeal to the author: If you ever felt devoid of ideas about what to write next (not that there's any chance of that for the time being, I imagine), could you please, please do a J K Rowling and write up The True History of the Mud Man; I'm sure there'd be a legion of fans who would eagerly devour it.