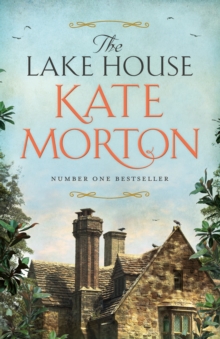 Description
The Lake House by Kate Morton is the mysterious and enchanting fifth novel from the number one bestselling author of The House at Riverton and The Secret Keeper.
A missing child...June 1933, and the Edevane family's country house, Loeanneth, is polished and gleaming, ready for the much-anticipated Midsummer Eve party.
Alice Edevane, sixteen years old and a budding writer, is especially excited.
Not only has she worked out the perfect twist for her novel, she's also fallen helplessly in love with someone she shouldn't.
But by the time midnight strikes and fireworks light up the night skies, the Edevane family will have suffered a loss so great that they leave Loeanneth forever.
An abandoned house...Seventy years later, after a particularly troubling case, Sadie Sparrow is sent on an enforced break from her job with the Metropolitan Police.
She retreats to her beloved grandfather's cottage in Cornwall but soon finds herself at a loose end.
Until one day, Sadie stumbles upon an abandoned house surrounded by overgrown gardens and dense woods, and learns the story of a baby boy who disappeared without a trace.
An unsolved mystery...Meanwhile, in the attic writing room of her elegant Hampstead home, the formidable Alice Edevane, now an old lady, leads a life as neatly plotted as the bestselling detective novels she writes. Until a young police detective starts asking questions about her family's past, seeking to resurrect the complex tangle of secrets Alice has spent her life trying to escape...
Information
Format: Hardback
Pages: 608 pages
Publisher: Pan Macmillan
Publication Date: 22/10/2015
ISBN: 9780230759275
Other Formats
Paperback from £7.09
EPUB from £5.59
Free Home Delivery
on all orders
Pick up orders
from local bookshops
Reviews
Showing 1 - 3 of 3 reviews.
Review by nicx27
02/03/2016
The Lake House is right up there with the best of Kate Morton's works. Set in Cornwall, it follows disgraced policewoman, Sadie Sparrow, who followed her instincts and wound up in trouble. Having escaped to her grandfather's house in Cornwall, she stumbles across an abandoned house, The Lake House, and finds out about the mystery of a child who went missing there in the 1930s. She decides to investigate and so we follow her as she does so, along with Alice in the current day, and Alice and her family in the 30s. It's a beguiling story and, although it was a bit of a slow-burner as the story was set up, I was completely hooked from the beginning. The story twisted and turned and just when I thought I knew what had happened I was surprised by another turn of events. The end tied up a bit too neatly but I liked it anyway. Kate Morton is a brilliant storyteller, weaving thread after thread together, going backwards and forwards, until it all makes sense. I absolutely loved this book, its characters and the magical setting.
Review by tina1969
27/01/2016
Past, Eleanor is happily married and with her children spends her summers in Cornwall. One summer things change when her youngest child Theo disappears.Past, Alice is spending her sumner in Corwall with her family when her life changes when her brother disappears. Present, Sadie is spending some time with her grandfather in Cornwall on leave from work.On exploring the local area sge discovers a rambling old house and decides to unlock its secrets.Anybody whos read Kate Morton before no what to expect. The book is a lengthy read with the usual past and present. At first its easy you get confused with all the characters and where in their lives the reader is at. The story does becone clear and all the characters blend together.This is a satisfactory read with all the usual twists and turns and a few surprises thst is expected with Kate Morton. My niggle is that I felt it was a little bit long and at times I fekt it could have got to the point. As with books like this I ferl I need to be able to have the time to sit and sink into the story. As always with books that have the rambling old house the reader can expect a load of family secrets to unfold. Not my favourite Kate Morton but an ok family secrets read.
Review by arielfl
02/03/2016
I will always pick up a Kate Morton book. I love her twisty Gothic tales of family secrets. In her latest book the Edevane family in the 1930's is hosting their Midsummer Eve party when their infant son goes missing. Meanwhile in the present we are introduced to disgraced cop Sadie Sparrow who has more than a passing interest in the Edevane family estate. The two stories weave together until they cumulate in the perfect conclusion. Morton does a flawless job of interweaving the events of the past with the present drawing them ever closer until the end. Her wrap ups are always fantastic and she never leaves a plot point danging. It's like all of the balls that have been juggling in the air are caught and the performer takes a bow. If I have one small complaint, it's that she relies a lot on coincidences. At times you have to suspend your disbelief and she just enjoy the story. Her strong suit is fantastic tale telling and the satisfaction you get when you finish her books and feel that everyone has reached their just conclusion.