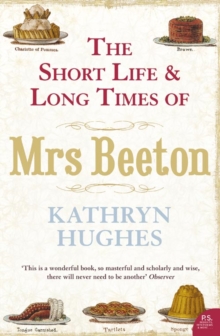 The Short Life and Long Times of Mrs Beeton
Paperback
Description
We each of us strive for domestic bliss, and we may look to Delia and Nigella to give us tips on achieving the unattainable.
Kathryn Hughes, acclaimed for her biography of George Eliot, has pulled back the curtains to look at the creator of the ultimate book on keeping house.In Victorian England what did every middle-class housewife need to create the perfect home? `The Book of Household Management'. `Oh, but of course!' Mrs Beeton would no doubt declare with brisk authority.
But Mrs Beeton is not quite the matronly figure that has kept her name resonating 150 years after the publication of `The Book of Household Management'.The famous pages of carefully costed recipes, warnings about not gossiping to visitors, and making sure you always keep your hat on in someone else's house were indispensable in the moulding of the Victorian domestic bliss.
But there are many myths surrounding the legend of Mrs Beeton.
It is very possible that her book was given so much social standing through fear as she was believed to be a bit of an old dragon.It seems though that Mrs Beeton was a series of contradictions.
Kathryn Hughes reveals here that Bella Beeton was a million miles away from the stoical, middle-aged matron.
She was in fact only 25 years old when she created the guide to successful family living and had only had five years experience of her own to inform her.
She lived in a semi-detached house in Pinner with the bare minimum of servants.
She bordered on being a workaholic, and certainly wasn't the meek and mild little wife that her book was aimed at - more a highly intelligent and ambitious young woman.
After preaching about wholesome and clean living, Bella Beeton died at the age of 28 from (contrary to her parent's belief) bad hygiene.
Kathryn Hughes sympathetically explores the irony behind Bella Beeton's public and private image in this highly readable and informative study of Victorian lifestyle.
Information
Format: Paperback
Pages: 512 pages, (Integrated B/W illustrations)
Publisher: HarperCollins Publishers
Publication Date: 03/07/2006
ISBN: 9781841153742
Free Home Delivery
on all orders
Pick up orders
from local bookshops
Reviews
Showing 1 - 1 of 1 reviews.
Review by AdonisGuilfoyle
16/06/2015
Last year, BBC4 repeated a drama based on the 'secret life' of Mrs Beeton, the Victorian lady behind the iconic and enduring <i>Book of Household Management</i>, and I was engrossed. For a start, the cast was very attractive, with Anna Madeley as the title character and JJ Feild as her publisher husband, but like most people today, I had no idea that the 'matronly' Mrs Beeton was actually only in her twenties when she wrote the 'BOHM', or that she died so young. Neither, unfortunately, did it occur to me that the TV drama was based on a more in-depth biography by Kathryn Hughes. Isabella Beeton, born Mayson, lived a full yet brief life in the mid-Victorian era. Born in 1836, she was raised in an extended family by her mother and step-father, who ran Epsom race course, and married editor and publisher Samuel Orchart Beeton in 1856. The couple had four children, but two sadly died in infancy – the result, Hughes claims, of Sam infecting Isabella with syphilis – and Isabella herself died, aged 28, soon after the birth of youngest son Mayson. In her personal life, Isabella was no different to any other middle class Victorian wife. What sets her apart, and makes her story well worth reading, is her professional career as journalist, 'editress' and publisher, and the impact her book has had on British food and domestic culture for over 150 years. Surely everyone has heard of Mrs Beeton's <i>Book of Household Management</i>, even if the mammoth household bible no longer graces our shelves at home!Sam and Isabella worked together as partners at S.O. Beeton, Sam's publishing firm, producing not only instructive manuals like the 'BOHM', but also magazines including 'The Englishwoman's Domestic Magazine' and 'The Queen', which later evolved into 'Harper's and Queen'. Sam respected his wife's judgement and business skills – probably because she was organised, and he was not – and the two of them viewed the publication of the 'BOHM' as a 'clever publishing idea', aimed at servants and new brides and every woman in between. Isabella did not write the copy herself, but gathered together sources from a range of historical predecessors, including Eliza Acton and Hannah Glasse, plus famous chefs Careme and Brillat-Savarin. What she did contribute was a straightforward, plain-spoken approach to running a home, indexing, organising and 'rephrasing' tried and tested material from more experienced authors. Hughes lays open Mrs Beeton's 'secret' technique, but also defends Isabella against the harsh accusations of plagiarism levelled against her by Elizabeth David and Clarissa Dickson-Wright. In the interview with the author at the end of the book, Kathryn Hughes writes that she became possessive of Mrs Beeton during her five years of research, viewing the household name as '<i>My</i> Mrs Beeton', and there is a definite note of familiarity and fondness in her writing. Fair but firm, Miss Hughes takes Isabella's side against 'little man' Sam Beeton at home and modern critics en masse, but also admits that the 'BOHM' upon which Isabella's posthumous fame and reputations rests – not to mention the many and multiform 'bastard progeny' of the original book – was more a triumph of marketing than a demonstration of skill. (Isabella, like Kathryn Hughes, was a journalist first and foremost, not a cook, and did not personally test every recipe in the 'BOHM', as legend has it). Kathryn Hughes' biography of Mrs Beeton not only sets the record straight – dispelling the myth that Mrs Beeton was a 'tub-like lady in black', if she existed at all – but also builds a detailed background of Isabella's marriage, family and career in publishing. Starting from a bundle of love letters bought at auction, Hughes fills in the gaps, brings history to life, and corrects the dubious research of previous Beeton biographies, presenting the most accurate account of Sam and Isabella's lives to date. She also sets the scene with a wealth of interesting historical information on Victorian diet and home life in Industrial Britain. Isabella is presented favourably, as a working mother, respected wife and helpful business partner, and Sam as a loving but unreliable husband, a 'buried subtext', who goes completely off the rails after Isabella's death (possibly due to his 'illness'). Hughes' claim that Sam infected Isabella with syphilis, which resulted in many miscarriages and the loss of two young children, is not supported by any factual evidence, but seems to fit with medical diagnosis. If the full biography is too in-depth for a first introduction, however, then 'The Secret Life of Mrs Beeton' (2006) is available on DVD!