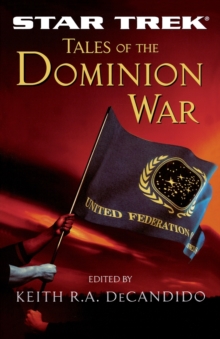 Tales of the Dominion War
Paperback
Description
For two seasons, Star Trek: Deep Space Nine(R) chronicled the intense struggle of the Federation, fighting alongside the Klingons and the Romulans against the overwhelming forces of the Dominion in some of the most exciting hours of television ever produced.
Now, for the first time, see how the Dominion War affected the entirety of the Star Trek universe.
From the heart of the Federation to the bridge of the Starship Enterprise(t).
From the front lines of Klingon(t) space to the darkest recesses of the Romulan Empire.
From the heroic members of the Starfleet Corps of Engineers to the former crew of the U.S.S.
Stargazer. From the edge of the New Frontier to the corridors of station Deep Space 9(t).
Some of the finest Star Trek novelists have been gathered to provide a dozen new tales from this seminal period in galactic history.
Heroes from three generations -- Sisko, Picard, Spock, Kira, Calhoun, Klag, McCoy, Gold, and so many more -- brought together in these...Tales Of The Dominion War Greg Cox * Peter David * Keith R.A.
DeCandido * Michael Jan Friedman * Dave Galanter * Robert Greenberger Heather Jarman & Jeffrey Lang * David Mack * Michael A. Martin & Andy Mangels * Josepha Sherman & Susan Shwartz * Dayton Ward & Kevin Dilmore * Howard Weinstein
Information
Format: Paperback
Pages: 320 pages
Publisher: Simon & Schuster
Publication Date: 02/08/2004
Category: Space opera
ISBN: 9780743491716
Free Home Delivery
on all orders
Pick up orders
from local bookshops
Reviews
Showing 1 - 2 of 2 reviews.
Review by mmtz
16/06/2015
This collection of short stories details events that occurred behind the scenes of the Dominion War as it was chronicled during the last two seasons of Star Trek: Deep Space Nine. Characters from every Star Tek series except Voyager make an appearance, as do original characters from various Star Trek novels. Overall, it's a welcome addition to the Star Trek universe. Stories that stand out are Blood Sacrifice, Mirror Eyes, and Twilight's Wrath. Also included is a timeline by editor Keith R. A. DeCandido.Published in trade paperback by Pocket Books.
Review by texascheeseman
16/06/2015
Star Trek: Tales of the Dominion WarEdited by Keith R. A. DecandidoPublisher: Pocket BooksPublished In: New York City, NY, USA Date: 2004Pgs: 370Summary:The Dominion War. Here are the untold tales beyond and within Deep Space Nine: from Klingon space to the Romulan Star Empire, from Betazed falling under occupation to a time space rift, from the Original Series to Deep Space Nine.What Dreams May Come - Michael Jan FriedmanNight of the Vulture - Greg CoxThe Ceremony of Innocence is Drowned - Keith R. A. DeCandidoBlood Sacrifice - Josepha Sherman & Susan ShwartzMirror Eyes - Heather Jarman & Jeffrey LangTwilight's Wrath - David MackEleven Hours Out - Dave GalanterSafe Harbors - Howard WeinsteinField Expediency - Dayton Ward & Kevin DilmoreA Song Well Sung - Robert GreenbergerStone Cold Truths - Peter DavidRequital - Michael A. Martin & Andy MangelsGenre:fiction, science fiction, militaria, cross media, television, short storiesWhy this book:This is a Star Trek book. And a war book. I am hoping that its flavor, since it is a war chronicle, is more Deep Space Nine than The Next Generation or Original Series.This Story is About:How the Star Trek universe in the DS9-TNG era survives a general and widespread war with the Dominion.Favorite Character:Field was filled with interesting characters. I haven't read any of the CoE Star Trek stuff, but this was a bit of excellent. Loved the characters of Kieran Duffy and Fabian Stevens. Wish we had gotten a better look at the Breen either in this one or in Eleven. Klag from Song is a great character, very Klingon in all the best ways.Least Favorite Character: In the story Vulture, the Vorta Methras , they are always presented as such sycophants and ass kissers. At least that's consistent.Character I Most Identified With:Surprisingly, Lwaxana Troi as she confronted the unthinkable and was buffeted before rising to the occasion in Ceremony. The stoicism of Lt. Commander Rondon in Field resonates with me.The Feel:Through the early stories, the feeling that I most feel is the rush. Not the rush, but as if the authors were hurrying their stories to fit the number of words/pages instead of writing the story to fit or writing the story as it needed to be written. Though that feeling was broken with the Fall of Betazed story, Ceremony. The Picard on Earth during the Breen sneak attack, Eleven, feels very similar to the episode of TNG where he and the children were trapped in a largely disabled Enterprise. Even with the similarity, the story is well done.Favorite Scene:In Vulture, on the bridge of the Solanco, when the Cardassian spy turns on his Founder conspirator. It was brutal, ultimately pyrrhic, but brutal..When Lwaxana Troi discovers her will to go on during Ceremony. Loved the McCoy callback to Phlox in Mirror Eyes.Field plays out like one long scene, the only break being the short bridge scene and communicator interruption sequences when the da Vinci is communication with the away team. Settings:This one covers a lot of space.The conquered world of Illrath. The bridge of the freighter Solanco. The Betazed home of Lwaxana Troi. Romulus. The Firefalls of Gal'gathong. Tal Shiar base on the planet Golgoroth in the Romulan Neutral Zone. Starfleet HQ in San Francisco. The Enterprise. Starbase 1. The Colombia. The Golden Gate Bridge. Deep Space 9. Bridge of the da Vinci. Lamenda III and the moons of Lamenda IV. Marcan V. The crashed interior of the Klingon IKV Pagh and the Jem'Hadar ship that crashed along with it. Brikar.Pacing:The pace seems good through the first few stories. By and large, they are very short, one act stories.Plot Holes/Out of Character:In Twilight, Shinzon referring to B-4 as brother doesn't ring well based on his interactions with the android in Nemesis. Last Page Sound:Glad I read it.Author Assessment:There are some good stories here. And some, not bad, but mediocre stories. By and large, I'd say that I wouldn't use this anthology as my needing to seek out more stuff by these authors. Editorial Assessment:Some of the stories could have went back through the polisher a time or three. And a few have an almost fanfic feel to them and I know that the authors involved in this had better work in them. But, all in all, I've enjoyed the book, but I see the potential where it could have been better.Disposition of Book:Half Price Book stackWhy isn't there a screenplay?Dreams could have been an episode of ST:TNG. Blood Sacrifice could have been an ep as well.Field would have made an excellent ep of whichever series was lucky enough to have it.Casting call:As many of the characters have appeared on television or in movies, I will refrain from making alternate casting suggestions for roles that have already been filled well by current actors. I would take this moment to suggest that Karl Urban as Dr. Leonard McCoy was genius. Just wish we had more samples and long form action with him in the role. Would recommend to:Star Trek fans