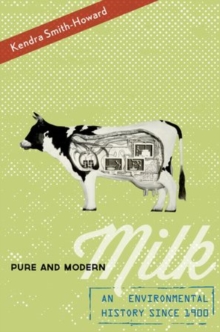 Pure and Modern Milk : An Environmental History since 1900
Hardback
Description
In the dairy aisle of the supermarket, one milk carton features cows grazing on a verdant pasture, backed by a forest and undulating hillside. On another, a cow's wide-eyed face beckons the thirsty drinker.
To the casual shopper, such pastoral images proclaim milk's wholesomeness and natural purity. However, the same labels in the dairy case that flaunt meadow flowers and red barns betray a different history, one of human manipulation of milk between farmstead andsupermarket. Words on the carton indicate that milk is "Grade A," "pasteurized," "homogenized," and "vitamin fortified." The cartons carry expiration dates and advise that the product be refrigerated. Such adjectives and directives convey a different reality than the pastoral scenes-thatharnessing cows' lactation processes requires an extraordinary amount of human effort. On behalf of pure and plentiful milk, Americans have become as reliant on inspectors to monitor cows for diseases and suppliers to keep milk cool as on idyllic agricultural landscapes. Though often conceived of as a pure product of nature, milk's nature had to be perfected for it to become a healthful human food. Milk is not the only food lauded for its natural origins.
Nor is it the only food that reaches the marketplace in an altogether different state from that in which it originated. But no other food has so stolidly symbolized natural purity, while simultaneously undergoing dramatic transformations to its material form. How and why has milk been conceptualized as wholly natural, even as it has been churned into manufactured foods like butter and ice cream, and incorporated into products asartificial as Cheez Whiz and wood glue? What ideas and values drove the modification of milk? How have consumers' changing expectations for milk affected the farm people, cows, and rural landscapes central to milk production? This first book explores these questions, connecting the development of dairyfarming to changing practices of buying milk products. It traces the processes of milk production and consumption through the stories of four different dairy goods: fluid milk, butter, ice cream, and the detritus of dairy processing (whey, skim milk, and milk proteins).
Information
Format: Hardback
Pages: 240 pages, 25 hts
Publisher: Oxford University Press Inc
Publication Date: 19/12/2013
Category: Social & cultural history
ISBN: 9780199899128
Free Home Delivery
on all orders
Pick up orders
from local bookshops