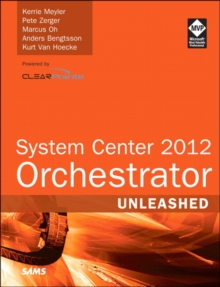 System Center 2012 Orchestrator Unleashed
Paperback / softback
Description
Using System Center 2012 Orchestrator, you can capture and document processes across your entire IT organization, establishing the automation you need to deliver advanced cloud services and self-adjusting computing resources.
Authored by five leading System Center experts, this comprehensive reference and technical guide brings together all the knowledge you'll need to architect, install, implement, integrate, and maximize the value of your own Orchestrator solutions.
The authors introduce current best practices based on large-scale enterprise implementations they've personally led or participated in. This up-to-date guide shows how to apply Orchestrator's major improvements to implement IT process automation in any environment, including private clouds.
You'll start with context: what Orchestrator does, how it has evolved, how it works, and essential architecture and design techniques.
Next, the authors help you make crucial up-front decisions about activities, runbooks, security, and administration.
Finally, you'll find expert guidance for integrating Orchestrator with the rest of System Center and with Windows Azure cloud services-including advanced automated workflows that encompass both data center and cloud. Detailed information on how to... * Understand System Center 2012 Orchestrator's capabilities, evolution, architecture, and design, including SP1 improvements and R2* Successfully install System Center 2012 Orchestrator and migrate smoothly from Opalis Integration Server 6.3* Take full advantage of Orchestrator's advanced new runbook automation capabilities* Configure activities associated with runbook control, systems, scheduling, monitoring, files, email, notification, and data handling* Design runbooks for fault tolerance and optimal performance* Enforce strong security using roles, permissions, and auditing* Deliver integration capabilities for Operations Manager, Service Manager, Configuration Manager, Virtual Machine Manager, and Data Protection Manager* Automate end-to-end data center/ cloud workflows with integration packs and PowerShell* Create your own integration packs with Orchestrator Integration Toolkit (OIT.SDK)* Support Orchestrator 2012, troubleshoot problems, and discover the best web and third-party resources
Information
Format: Paperback / softback
Pages: 768 pages
Publisher: Pearson Education (US)
Publication Date: 21/08/2013
Category: Microsoft Windows
ISBN: 9780672336102
Free Home Delivery
on all orders
Pick up orders
from local bookshops