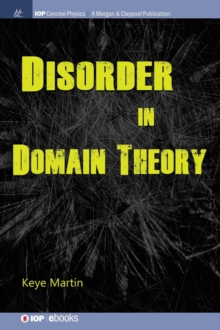 Disorder in Domain Theory
Hardback
Description
Domain theory, a subject that arose as a response to natural concerns in the semantics of computation, studies ordered sets which possess an unusual amount of mathematical structure.
This book explores its connection with quantum information science and the concept that relates them: disorder. This is not a literary work. It can be argued that its subject, domain theory and quantum information science, does not even really exist, which makes the scope of this alleged 'work' irrelevant.
BUT, it does have a purpose and to some extent, it can also be said to have a method.
I leave the determination of both of those largely to you, the reader.
Except to say, I am hoping to convince the uninitiated to take a look.
A look at what?Twenty years ago, I failed to satisfactorily prove a claim that I still believe: that there is substantial domain theoretic structure in quantum mechanics and that we can learn a lot from it.
One day it will be proven to the point that people will be comfortable dismissing it as a 'well-known' idea that many (possibly including themselves) had long suspected but simply never bothered to write down.
They may even call it ""obvious!"" I will not bore you with a brief history lesson on why it is not obvious, except to say that we have never been interested in the difficulty of proving the claim only in establishing its validity.
This book then documents various attempts on my part to do just that.
Information
Format: Hardback
Pages: 68 pages
Publisher: Morgan & Claypool Publishers
Publication Date: 30/09/2018
Category: Science: general issues
ISBN: 9781643272757
Other Formats
Paperback / softback from £35.50