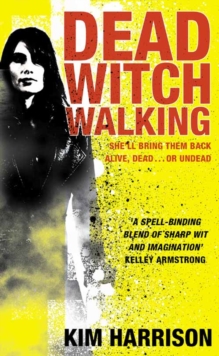 Dead Witch Walking
Paperback
Description
From New York Times bestselling author, Kim Harrison, comes the first book in an exciting urban fantasy series; packed with the perfect balance of wry humour and thrilling action, which will delight fans of thrillers and fantasy alike.Rachel Morgan is a white witch and runner working for Inderland Security, in an alternate world where a bioengineered virus wiped out a great deal of the world's human population - exposing the existence of the supernatural communities that had long lived alongside humanity.For the last five years Rachel has been tracking down law-breaking Inderlanders in modern-day Cincinnati, but now she wants to leave and start her own agency.
Her only problem is that no one quits the I.S.Marked for death, Rachel will have to fend off fairy assassins and homicidal weres armed with an assortment of nasty curses.
She's a dead witch walking unless she can appease her former employers by exposing the city's most prominent citizen as a drug lord.
But making an enemy of the ambiguous Trent Kalamack is just as deadly as leaving the I.S.
Information
Format: Paperback
Pages: 432 pages
Publisher: HarperCollins Publishers
Publication Date: 02/10/2006
Category: Fantasy
ISBN: 9780007236091
Other Formats
EPUB from £2.99
Paperback from £6.89
eAudiobook MP3 from £11.59
Free Home Delivery
on all orders
Pick up orders
from local bookshops
Reviews
Showing 1 - 4 of 4 reviews.
Review by rhian_of_oz
16/06/2015
When I started this book, it struck me as a combination of Rachel Caine's Weather Warden series, Laurel K Hamilton's Anita Blake series (before it turned into porn) and Jim Butcher's Harry Dresden series. Here we go again, I thought, same dog, different leg action. Despite the similarities (magic in the 'normal' world, heroine in extreme danger, allies not entirely trusted), I really enjoyed it. It's well-paced and action-packed, and left enough unresolved issues at the end to entice me into reading the next in the series.
Review by Lman
16/06/2015
I have been sampling the paranormal / urban fantasy genre on a regular basis lately – a feast of these books are now on offer – and unashamedly, I have been thoroughly entertained with most. The majority are easy-to-read, frothy but engaging amusements typically engendering a main female protagonist with irresistibly charms, unique supernatural talents and a sassy attitude; they proffer an irreverent romp through an alternate urban society while imparting some small underlying social commentary. <i>Dead Witch Walking</i>, the first in the Rachel Morgan series, fulfils this template seamlessly; but I can't help feeling that there is a complexity, an intricacy, to the tale that surpasses the usual assortment of this ilk - notwithstanding my dismay at the bad press now afforded tomatoes...Indeed! In the past, labelled the Turn, a genetically-engineered virus in tomatoes wiped out vast swathes of humans, and exposed the preternatural creatures living in their midst - due to their innate immunity to human disease. Now bio-engineering, along with the ignoble tomato, are anathema to this world, and are fiercely proscribed. Thus, due to similar population numbers, there is now an uneasy open co-existence between Inderland creatures – witches, were-creatures, vampires (living and dead), fairies and pixies – to name a few, and humans. Sadly the elves were wiped out from their inter-breeding with humanity. Rachel Morgan is a witch – white with earth-based powers – contracted, for thirty years, as a runner for the Inderland Security, an institution policing this otherworldly population. Disillusioned with her increasingly facile assignments, and believing her capabilities would be better utilized elsewhere, while on a mission to capture a leprechaun Rachel resolves to resign her post. But breaking an I.S. contract means money or death; when the much-vaunted, highly-respected vampire runner, Ivy Tamwood, pays off her contract and leaves with Rachel, along with the pixie Jenks, the fault for this loss is placed squarely at Rachel's feet and her life becomes forfeit. She is, in truth, a dead witch walking!It is blatantly obvious that this book serves as an introduction to the world of Rachel Morgan - there are many more questions posed than answers supplied throughout this entire story-line. And yet, it is just this that attracts me to the story. As Rachel is forced to counter the inexorable vicious attempts on her life, the intriguing details of the circumstances of the existences for these paranormal creatures are delicately disclosed – their powers, the hierarchy and interactions between groups, along with their own intolerances of each other, all are cleverly revealed. And the means Rachel employs to rid herself of her debt, and survive, extend another whole layer to the tale. There are portions of this extravaganza that disappoint – the peculiar relationship between Ivy and Rachel is badly handled at times; one can only hope it is part of a forthcoming design and will disentangle, be more realised, in the following chapters. In fact, every key character, introduced within this book remains quite enigmatic; the reader left still guessing to the very end.Ultimately, this riddle acts as a very clever hook – full of brash and lively humour the lack of predictability, the many unexpected twists along with the imaginative and flamboyant protagonists combine to establish a marvellous beginning to an impressive and original take on this manner of writing. This is an altogether splendid concept, with a little more depth than comparable tales, and a creativity to ensure a continuing fascination; generating an interest and a desire to invest in the next book. I am full of curiosity and anticipation; and quite eager to read much more about life in The Hollows. (April 3, 2009)
Review by magemanda
16/06/2015
Kim Harrison introduces us to the world of the Hollows, a district close to Cincinnati that contains witches, weres, pixys and vampires - all those creatures that humans never realised existed until the Turn. Harrison introduces an intriguing idea to underpin the reason for these supernatural creatures being amongst human beings - in her world, bio engineering went wrong and a mutated virus swept the earth, killing a quarter of humanity. The Inderlanders (all of those supernatural people) had a natural resistance to this virus, and so found themselves able to reveal their presence to human beings. This was with the exception of elves, who, according to records, died out entirely - probably thanks to interbreeding with humans.This particular story centres around Rachel Morgan, a runner for the IS who finds herself given more and more pathetic targets to bring in. Soon enough she snaps and decides to leave the IS and branch out on her own. Leaving the IS has huge repercussions, including a death threat (hence the title 'Dead Witch Walking') and taking with her the slinky vamp Ivy and naughty pixy Jenks.Harrison suffers from the usual problem of a first novel in a recurring series - she has a number of characters to introduce and some info dumping to perform. This creates an issue of pacing - the first hundred or so pages are a little bit of a struggle as we get to know Rachel and the world she lives in, while the rest of the book flies past once the true plot kicks in. I also found that Harrison belaboured the point a little concerning Ivy and her state of control regarding taking blood from humans. However, most of the novel is an absolute delight! Jenks and the rest of his family are mischievous, fun, warm and witty. I absolutely love when Rachel finds herself the same size as Jenks and notices just what a hot guy he is! Another lovely theme was the book that Ivy lends Rachel about how to attract vampire lovers - so that she can avoid doing the many things that are causing Ivy to misread her intentions. The novel has a number of laugh-out-loud moments, but there is also a warm heart to the book. The characters are people you end up caring a great deal about, and you definitely want to know more about them. I will be picking up the rest of this series!
Review by littlebookworm
16/06/2015
Rachel Morgan lives in a world populated by vampires, witches, werewolves, pixies, demons, and fairies. Forty years ago the supernatural creatures were exposed after a genetically engineered virus, hiding in an innocent tomato, killed half the world's population of humans. Now they exist in an often uneasy truce. Rachel, a witch, is a runner with the Inderland Runner Services, policing supernatural crime throughout Cincinnati. Unfortunately, the calibre of Rachel's assignments has vastly decreased recently, and she is fed up. She decides to break her contract with the I.S. and start her own runner agency, scoffing at the rumors of consequences. That's until she discovers that she has been marked for death and she must find a way to save herself before it's too late.In case you haven't noticed by the reviews which are popping up around here, the end of my dissertation was accompanied by some serious light reading. Urban fantasy is an awesome variant, and this book in particular was a pleasant surprise.First of all, it's fairly long and it has an excellent plot, at least I thought so. Once Rachel quits the I.S., it gets going and I really wanted to find out what would happen next. Since she's in constant danger of her life, she's often on the run and dealing with difficult situations. She only makes things worse for herself later on by entangling herself in another dangerous plot. It's a little zany, but it works!Rachel herself is a character I liked almost immediately. She's stubborn and doesn't back down, even when she should, but I felt her reasoning was good and her fears were very human. The secondary characters were also fairly well-rounded. Ivy is a dangerous vampire but with a strangely compassionate side. We never really figure out why she's so interested in Rachel and determined to back her up, but that must be a story for one of the next installments. Jenks the pixie is a hilarious sidekick and adds just that much more to the book. The third character, who pops up around the middle, is also a welcome addition to this series.It was also refreshing to find that there isn't much romance in this installment. I can feel it coming, but I'm getting a little tired of romance at the moment and I'm looking for something else in my fantasy. This book fit the bill perfectly.If you like urban fantasy, Dead Witch Walking would be a great addition to your library. I'm looking forward to the rest of the series.