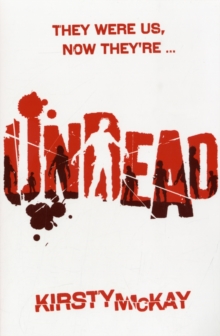 Description
"A kick-ass teen-action-zombie fest. Fast, furious, freaky, funny and seriously sick. Oh, and did I mention it kicks ass?" - Charlie Higson, award-winning author of The Enemy and The Dead.
It was just another school trip...When their ski-coach pulls up at a cafe, and everyone else gets off, new girl Bobby and rebel Smitty stay behind.
They hardly know each other but that changes when through the falling snow, they see the others coming back.
Something has happened to them. Something bad...Soon only a pair of double doors stand between those on the bus and their ex-friends the Undead outside.
Time to get a life. Author Kirsty McKay is a major new horror/thriller writer for ages 12+.
Terrifyingly accomplished and blackly funny.
Information
Format: Paperback
Pages: 304 pages
Publisher: Chicken House Ltd
Publication Date: 01/09/2011
Category: Horror & ghost
ISBN: 9781906427870
Free Home Delivery
on all orders
Pick up orders
from local bookshops
Reviews
Showing 1 - 2 of 2 reviews.
Review by KateBond
16/06/2015
I am not generally a fan of zombie horror. I don't like blood and guts (which Undead contains in spades, Jesus), but the characters are well-defined and funny enough that this series reads more like <i>Buffy</i> than <i>The Walking Dead</i>, so it works for me.<br/><br/>OK. So. Bobby and her mother have just moved back to Scotland from the US, where they'd lived for six years, following the death (cancer) of Bobby's father. Before the school year starts, Bobby's mother insists that she go on a class trip to a ski lodge. On the way back from said trip, the bus stops for a lunch break, and Bobby decided to skip more of the teasing she endured all weekend to eat a peanut butter sandwich on the bus. Smitty, the annoying bad boy, is stuck with her as punishment for attempting to buy cigarettes and vodka with a fake id (these kids are, like, 15). Shit goes down almost immediately, causing the driver to leave the bus and return horribly wounded, as Alice, leader of the Mean Girls, flees the restaurant, informing Bobby and Smitty that everyone in there is now (un)dead.<br/><br/>All of the above happens before page 10. As the book goes on, Pete the Nerd (and only remaining survivor from their class) joins the ranks of group as they attempt to escape through a countryside teeming with seriously disgusting zombies.<br/><br/>I don't have a ton to say about this book. It was just a lot of fun, primarily because of the characters:<br/><br/>Bobby, our first-person narrator, is wry and brave. She has a strained relationship with her mother, who is a cold, intellectual scientist. Bobby is still mourning the recent loss of her father. She and her three classmates develop a relationship similar to that of siblings--they are loyal to each other against outside forces but bicker constantly within the group. Bobby sloooowly develops a romantic attachment to Smitty, in a manner appropriate for fifteen-year-old kids.<br/><br/>Smitty, the bad boy (he wears a leather jacket and eyeliner), is fearless, funny, and surprisingly kind. He has a stupid, charming habit of risking his life to save people who are clearly too far gone to be rescued. Bobby, who is more practical but loyal to a fault, tends to get sucked into his schemes. Being a teenager, Smitty has no interest in love or whatever, but develops a flirtatious camaraderie with Bobby.<br/><br/>Alice, the mean girl, is inexplicably wearing her cheerleading uniform on the class ski trip. She's selfish and bitchy, and has a habit of peppering her speech with french phrases because she thinks it sounds cool. Alice possesses excellent people skills when it comes to lying and manipulation.<br/><br/>Pete, the nearly-albino nerd, carries that air of detachment from human society peculiar to those who have spent their entire lives as the butt of a joke. He is also absolutely brilliant and ultimately grows into his own brand of heroism as the novel progresses.<br/><br/>Lily, an older teenage girl who is caring for her toddler brother Cam after their mom becomes a zombie, grounds the group a bit by being capable of speaking logically without sarcasm, and by having a tiny creature relying on her.<br/><br/>The first third of the novel takes place on and around the school bus; once the crew branches out to find help in the countryside it gets really, really interesting, setting up a fun cliff-hanger for book two.<br/><br/>My only complaint is the slick, somewhat flippant writing style at the beginning. It chills out as the story progresses, but it's a lot to take right at the top. Still, it's one of my favorites of this past year, and I just read the equally awesome sequel, which is currently only available in the UK.<br/>
Review by SilverThistle
16/06/2015
Two words - Scotland. Zombies. I was all over it! Zombies on my home turf?! I'm in!<br/><br/>What I didn't realise going into this was that it's probably what's known as a 'middle grade' read (I think) and that definitely had a bearing on how I was feeling towards the book before I figured it out. I had wrongly thought this was at least a YA so when the zombie's were few and far between and there was a general 'tameness' to it overall I was feeling unsatisfied. But then it clicked...it's for kids. Or is it? I think so...I'm conflicted...<br/><br/>Okay, so my uncertainties aside I'll be assuming this is for kids and that being the case I thought it was great! It's scary enough without being too scary. For the intented age group that is. <br/><br/>I don't like including synopsis in my reviews but just a quick overview would be - School bus trip to Aviemore, Scotland and a handful of teens are left to survive after making a rest stop at a cafe where almost everyone in the vicinity drop's dead and rises again as a zombie. <br/><br/>I loved the characters and they were really well written and believable. What really brought them to life for me was the dialogue. The dialogue was spot on and the intereaction of the mismatched band of survivors really worked. I had no problem 'hearing' their voices in my head as I was reading. The characters are stereotypes 101 but I loved them all anyway. <br/><br/>If you've ever watched 'The Breakfast Club' there's a line at the start that goes, "We're a princess, a jock, a brain, a basket case..." or something like that and Undead's characters reminded me of those. They're all so different but they're thrown together in something that none of them asked for or wanted and they're getting along and getting though it as best they can. <br/><br/>Considering it's a zombie book it's actually quite a funny book too. It's not a joke a minute type thing but the characters can find humour even in terror. For example they give names to the zombies (booby woman springs to mind, ha!) and there is lots of observational humour and wise-assery scattered about too. I like that.<br/><br/>The only downside I found was that I wasn't overly fond of the ending. It felt a bit rushed compared to the rest of the book and left me wonedering what just happened but I 'think' there's another book to follow so I'll be checking that out and looking forward to continuing the story, and maybe getting some more answers to the questions I have about the ending.<br/><br/>I'm not the target audience but I do love a zombie book and this one is still a 4 star for me, regardless of whether or not I'm in the correct age bracket for it.