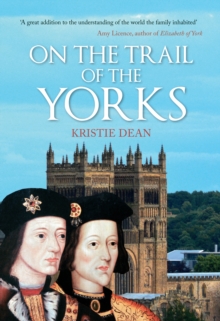 On the Trail of the Yorks
Hardback
Description
Richard III is probably the House of York's best-known figure, but the other members of the family are just as intriguing as the king who fell on Bosworth Field.
These include his father, the Duke of York, who held a claim to the throne that would eventually topple a king; his older brother Edward IV, a warrior cast in the mould of a true Plantagenet; and the resilient Yorkist queen Elizabeth Woodville and her daughter Elizabeth of York, the latter of whom would eventually unite the family with their longstanding rivals, the Lancastrians, and become the mother of the most infamous dynasty in English history, the Tudors. This book explores the places associated with members of this fascinating family and discovers their stories through the locations they visited and inhabited.
It reveals the lives of the Yorks by exploring the cathedrals, castles, battlefields and manor houses that shaped their history.
Featuring locations such as Fotheringhay, Baynard's Castle, Durham Cathedral and the Palace of Westminster, among many others, this book brings each site to life, giving a gripping account of its heritage as well as accurate information for the visitor.
Extensive descriptions and an array of illustrations and photographs recreate these poignant and sometimes controversial locations, immersing the reader in the ancient and intriguing world of the Yorks.
Information
Format: Hardback
Pages: 288 pages, 32 Plates, color
Publisher: Amberley Publishing
Publication Date: 15/03/2016
Category: British & Irish history
ISBN: 9781445647135
Also by Kristie Dean