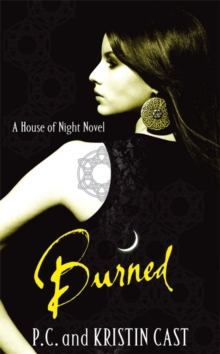 Burned : Number 7 in series
Hardback
Description
Y'all need to get yourselves together. Here's a newsflash from the only High Priestess you have left at this dang school: Zoey isn't dead. And believe me, I know dead. I've been there, done that and got the fricken tee-shirt.Zoey Redbird is the youngest High Priestess in House of Night history and is the only person - vamp or fledgling - that can stop the evil Neferet from raising all kinds of immortal trouble. And she might just have a chance if she wasn't so busy being dead.Well, dead is too strong a word.
Stevie Rae knows she can bring her BFF back from her unscheduled va-cay in the Otherworld.
But it's going to take a lot more than hoping to bring Zoey back.
Stevie Rae will have to give up a few secrets of her own . . .
Information
Format: Hardback
Pages: 336 pages
Publisher: Little, Brown Book Group
Publication Date: 06/02/2010
Category: Fantasy
ISBN: 9781905654819
Other Formats
Paperback from £7.05
EPUB from £4.99
Free Home Delivery
on all orders
Pick up orders
from local bookshops
Reviews
Showing 1 - 4 of 4 reviews.
Review by JessicaLouise23
16/06/2015
This is the 7th book in the House of Night series so don't read this review unless you've read the other books you have been warned!I'm not ashamed to admit that I am super addicted to this series. I love the plot, I love the characters although I'm not blind to this books faults. The language can be rather shocking for a YA book. Some parts are cheesy, some annoying but I always want to find out what's going to happen next because the world that P.C and Kristin have created is addicting. With Zoey in the Otherworld this book needed a new narrator and that narrator is Stevie Rae which I didn't like all that much seems as her character annoys me sometimes since she turned into a red vampyre. So this book is mainly Stevie Rae's take on things although you do get chapters narrated from the other cast and sometimes even Zoey. Needless to say I preferred the parts of the book when somebody else was narrating but I didn't dislike the Stevie Rae moments. In fact by the end of the book I felt like I understood her a lot more and I even started liking Raven mocker Rephaim! All in all I enjoyed this book as I have with all of the books in this series. If you love the other books get this one. Be warned though this book is a little bumpy it has its awesome parts and then not so awesome parts, but then again so do the others. Over all worth the read and I'm still as addicted to this series as ever and cant wait to find out what happens to the gang in the next book Awakened. 4 stars.
Review by the1butterfly
16/06/2015
I think this was the slowest of the books in the series for me to get through. Maybe I was feeling distracted- and I also think that though I'm fond of writing from multiple perspectives, I might not enjoy reading from them as much. It was frustrating to watch Zoey struggle, to watch Stark struggle, to watch everyone barely keeping it together. I think that was what made it longer for me.
Review by nicola26
16/06/2015
The first few books in this series were good. They were fun, easy reads and guilty-pleasure material. The last few books have been a chore to read, though. While the characters were not as annoying in this book (due to Zoey not really being present) the writing was irritating. I did not understand the reason for switching narrators every few pages. It added nothing to the story and broke it up too much. I have never been a fan of the Kalona plot which was particularly boring in this book. I really like Aphrodite as a character and I think it's a shame she's been pushed to the side and treated so badly by the other characters. I keep reading these books in hopes that they'll return to what they were at the start but I'm not sure how likely that is.
Review by katie1802
16/06/2015
These books are fine and all but has anyone else realized that there are going to be TWELVE of them in total?! After Burned you have Stolen, Burdened, Touched, Cloaked and Wanted. No wonder they are starting to tell the story from multiple perspectives. (Speculation is now at fifteen books).<br/><br/>Loving the U.K. cover by the way, disappointed its not Stevie Rae like the U.S. but it will look good on my shelf anyway.<br/><br/><br/>Finally, time for me to actually review it. Okay, so this took me a while to read seeing as I have to study for the state exams the Irish government insist I take.<br/><br/>Well, I enjoyed this far more than I thought I would, I really did. I still hate Zoey, and speaking of hate, I despise Damien, Jack, and the Twins too.<br/><br/>But now for things I like, Stark for one, and pretty much anything to do with Stevie Rae and Rephaim, I hope that ends well. <br/><br/>This book still has the shameless pop culture references and I hate the really over the top "And I suddenly realised what I must say..." moments but all in all, its a good book. <br/><br/>Lets just hope Rephaim, Stevie Rae and Stark get their happy endings now.<br/><br/>Oh, I must also compliment the authors for the research they did, although I obviously don't speak Scottish Gaelic, I definitely recognised the words that are identical to Irish.
Also in the House of Night series | View all