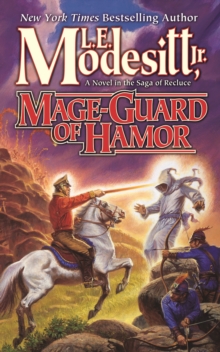 Mage-Guard of Hamor
Paperback
Description
Rahl was a young apprentice on the island of Recluce sent to the mages training school for testing, then banished to Hamor.
His education now continues under dangerous circumstances.
In Hamor, his powers have increased, but so has the amount of trouble he attracts.
The whole society of Hamor is a new culture for Modesitt - and Rahl - to explore, one in which magic is a monopoly of the state.
Rahl is a mage now, powerful and still just as dangerous to himself and to others.
This is the story of how he gains both more knowledge and power, and more self-control.
Information
Format: Paperback
Pages: 736 pages, maps
Publisher: St Martin's Press
Publication Date: 01/10/2017
Category: Fantasy
ISBN: 9780765358820
Free Home Delivery
on all orders
Pick up orders
from local bookshops
Reviews
Showing 1 - 5 of 7 reviews.
Previous | Next
Review by laurenbethy
16/06/2015
Okay, so this is not a deeply meaningful book, but I saw it in the bookstore after reading the first book a year or two ago and I got totally excited. I like it better than the first book, but I have mixed feelings about the fact that most of the book was about battle strategies and general fighting. However, I really enjoy Rahl as a character and I loved to watch him succeed, especially because Rahl tends to make a lot mistakes (which is also what I like about him).This book made me giddy and giggle and filled my head with different types of magics and I am happy to say that I own this book and will read it again the next time I am bored. Sufficiently entertaining. Also, I have not read any of Modesitt's other books so I cannot compare but I still thought this was a fun book.
Review by pmtracy
16/06/2015
Mage-Guard of Hamor is the finale of the two-part "Rahl Epic" within the Saga of Recluce Series.In Natural Ordermage, we were introduced to Rahl. He blamed all of his misfortunes on others, never taking responsibility for his own destiny. We were lead to believe at the conclusion of that novel that he'd make good in the next.In Mage-Guard of Hamor, Rahl's whining has substantially subsided. What is so disappointing is that the character hardly grows or evolves. He continually moves up in rank and the reader is told how powerful he is becoming, but it's never substantiated through plot. I expected so much from this character but he never reached his full potential. Conversely, Overcommander Taryl did become more complex and quite interesting. There were hints that he may have left the Triad because of some relationship with the Empress. He becomes a brooding character with many secrets. I would have preferred to have the novel focus more on him.What was interesting about this particular story was Modesitt's intense focus on military strategy and maneuvering. The novel contains a series of battles that are spelled out in an almost "play-by-play" fashion. While not for everyone, I believe this is the only literary tool that carries the reader to the conclusion.This was one of the author's least satisfying installments of the series. In prior novels, the characters developed, the action was intense or this world's history was expanded. In Mage-Guard of Hamor, the accomplishment was over-extending a two-part story that could have been concluded in one book. Unfortunately, you do need to read this for some closure to Natural Ordermage.
Review by lafincoff
16/06/2015
More of Rhal. I enjoyed the multiple combat scenes. Specifically, I enjoyed the strategy lessons that Kharl's boss was giving him. The romance didn't quite feel right. I tried to imagine what receiving written letters back in the day would mean in comparison to today's instant email/cell phone/text message etc, and if it would have had such impact. A good read.
Review by wbentrim
16/06/2015
Mage-Guard of Hamor L.E. Modesitt Jr.In the continuing saga of Recluce, Modesitt picks up the threads of Rahl, the exiled natural order mage. Exiled from Recluce because his strength and his talent were frightening to the establishment, Rahl suffered a high level of abuse in the last book. In this book, working with Taryl, the former Triad, Rahl begins to gain control of his considerable talent. The intrigue and maneuverings of the various Hamorian factions leads to action and war. L. E. Modesitt Jr. is a master in keeping you involved. I have enjoyed the entire Recluce series. Modesitt paints his characters with perception and compassion. You feel like you are relating to a real human being. Rahl's love for Deybri, the healer, is portrayed with honest frustration. In the real world, relationships are never simple and Modesitt takes the time to accurately portray a complicated relationship. Rahl's relationship with Taryl is no less complicated with mysterious overtones. This is a great story, it can be read alone and stand on it's own merit's but if you are not reading the Recluce saga, I highly recommend both the series and this book.
Review by TheOneTree
16/06/2015
Nice page turner. Really enjoyable read from beginning to end, not just the book either, the whole series. Characters are very engaging. If you haven't picked this one up yet, do yourself a favour and do so.