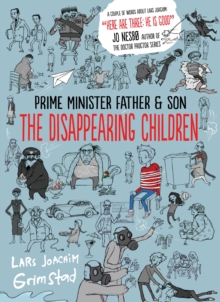 Prime Minister Father and Son: The Disappearing Children
Hardback
Description
Norway's bestselling young adult novel of 2014! Finn is the son of the Prime Minister of Norway, but his father has not been the Prime Minister for very long; in fact, until recently, his father was a taxi driver.
After years of listening to passengers complaining in the back of his cab, Teddy Popps knows exactly what the electorate want: NO MORE POT HOLES IN THE ROAD AND MORE CRISPS IN CRISP PACKETS! And he was right: his MORE Party are voted in power against all the odds! But all is not well . Finn's newly-acquired brother (a gift from a dictator in a faraway land) is acting suspiciously, and one-by-one children in Finn's class start to disappear...Hilariously brilliant packed with intrigue and adventure!
REVIEWS: "A taxi driver who becomes Prime Minister, a robot with a speech impediment, children who are abducted by giant flies...Anything can happen..." -- DAGBLADET MAGAZINE. "The Disappearing Children is a real adventure book.
It is insanely funny, thrilling without being frightening. The book is superbly well written while still being easy to read" -- BOKMERKER LITERARY REVIEW. "A couple of words about Lars Joachim: here are three - he is good!!" -- JO NESBO.
Information
Format: Hardback
Pages: 304 pages
Publisher: Phoenix Yard Books
Publication Date: 01/05/2015
Category: General
ISBN: 9781907912382