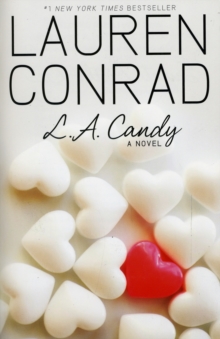 Description
L.A. Candy is a deliciously entertaining novel about what it's like to come of age in Hollywood while starring in a reality TV show, written by a young woman who has experienced it all firsthand: Lauren Conrad.Fashion designer and TV personality Lauren Conrad brings her insider knowledge of the highs and lows of life in the spotlight to this juicy New York Times bestselling series.Los Angeles is all about the sweet life: hot clubs, cute guys, designer...everything.
Nineteen-year-old Jane Roberts can't wait to start living it up.
She may be in L.A. for an internship, but Jane plans to play as hard as she works, and has enlisted her BFF Scarlett to join in the fun.When Jane and Scarlett are approached by a producer who wants them to be on his new series, a "reality version of Sex and the City," they can hardly believe their luck.
Their own show? Yes, please!Soon Jane is TV's hottest star. Fame brings more than she ever imagined possible for a girl from Santa Barbara-free designer clothes, the choicest tables at the most exclusive clubs, invites to Hollywood premieres-and she's lapping up the VIP treatment with her eclectic entourage of new pals.
But those same friends who are always up for a wild night are also out for a piece of Jane's spotlight.In a city filled with people chasing after their dreams, it's not long before Jane wakes up to the reality that everyone wants something from her, and nothing is what it seems to be.
Information
Format: Paperback
Pages: 352 pages
Publisher: HarperCollins Publishers Inc
Publication Date: 17/12/2009
Category: General
ISBN: 9780061767593
Other Formats
EPUB from £4.99
eAudiobook MP3 from £13.99
Free Home Delivery
on all orders
Pick up orders
from local bookshops
Reviews
Showing 1 - 5 of 11 reviews.
Previous | Next
Review by Amanda16948
16/06/2015
Great girl fluff book!!! Ends weird, so be prepared for L A Candy #2...
Review by Bookfinds
16/06/2015
Inspired by William Boot's column at The Daily Beast, I decided to start my own version of "Should I Read." If you are unfamiliar with Boot's column here is a quick explanation, each week Boot tackles a title from the New York Times Bestseller List. He weighs in on the book and let's readers know if the book is worth the hype. Sometimes the book lives up to the hype and sometimes it doesn't. I will be calling BookFinds version of Should I Read, "OFF THE LIST." We will literally be pulling titles right "off the list" and letting you know if they are worth the read.This week I chose LA CANDY by Lauren Conrad. This book is currently number one on the New York Times list for Children's Books. LA CANDY is a quick read and an interesting story. Anyone who has ever watched a reality show (especially The Hills, Laguna Beach or The City on MTV) will love reading an insider's take on what it's really like to be taped all day, every day. Obviously, it's not as glamorous as it appears. I went into this book expecting the absolute worst and in a way I think that helped Lauren Conrad's cause because it wasn't as awful as I expected. Now I know that doesn't sound like a ringing endorsement, but honestly, the book is a light, fun read and sometimes that is the perfect choice. Sometimes you want to sit back and get lost in a "fluffy" book. It ends on a cliff hanger to ensure that we all run out and buy SWEET LITTLE LIES. I'm not sure I will be picking up the sequel because I think I got all I could from the first book. For example, I never knew that the producers interact with the "cast" via text message during the shooting. Now I will have to pay closer attention to these MTV reality shows and see how many times they check their Blackberry.So I would say, YES, read this book for the entertainment factor but don't expect any great literary feat.
Review by aziemer
16/06/2015
This debut novel is the first in Lauren Conrad's series. The book chronicles the lives of four Hollywood wannabe socialites as they begin their lives in the big city. Becoming reality TV stars overnight fosters drama, gossip, and backstabbing for the four girls. After becoming addicted to the show The Hills on MTV, curiosity caught me and I thought I'd read Lauren Conrad's book. The story told is fictional but has undertones of events that occurred on Conrad's MTV show. It was not hard to guess which character was mimicked after a fellow co-star. The book was written nicely with enough scandal to hold a reader's attention but lacked the essentials to appeal to a wide audience. At times, the book seemed somewhat juvenile in writing and grammar. Teens are the target market for this book and probably the only audience that will really enjoy this book to it's fullest. Though the writing wasn't 5 star, it was an easy and fun read.
Review by NicoleN
16/06/2015
19 year old Jane Roberts is living THE life. Hand-picked to star in a reality show, Jane is living in one of the best apartments in Los Angleles, has a major cute (but with a bad history of girlfriends)boyfriend, free designer clothes, VIP pass into clubs, AND is the star of reality television show, "L.A Candy", life is looking great. Or is it? Jane's close-friendship with her best friend Scarlette begins falling apart, the paparazzi begins to get to her, she's having boy troubles, and there's no-one she can trust anymore. Scarlette has been against the show from the start but Jane just doesn't want to listen. And that's what gets her into BIG trouble.I'm not a big fan of this novel because I think it is a bit cliche with all the 'prettiness' of the girls and their clothes but it was a good view of how celebrity life isn't all that fantastic and glamorous. It took half of the book just for the girls to start filming for the reality show which I think is a bit too long. Overall, I think I might give this 3/5 starts.
Review by starlightmuse
16/06/2015
I have never seen the MTV reality series, but I was curious about this book and the phenom behind it.To my surprise, it was a very quick and engrossing read. The main characters, Jane and Scarlett, become overnight stars when they sign on to do a Sex and the City style reality TV show in LA. What happens behind the scenes, the difference between truth and "reality", and the struggles of who to trust are interesting. It's not the deepest book, but it's an entertaining look into the darker side of reality TV.
Also in the L.A. Candy series