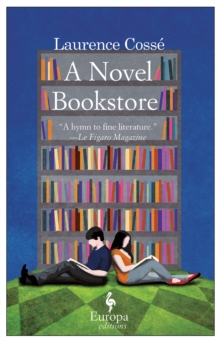 A Novel Bookstore
Paperback
Information
Format: Paperback
Pages: 432 pages
Publisher: Europa Editions
Publication Date: 31/08/2010
ISBN: 9781933372822
Free Home Delivery
on all orders
Pick up orders
from local bookshops
Reviews
Showing 1 - 5 of 24 reviews.
Previous | Next
Review by vlcraven
16/06/2015
A fun little mystery/fantasy for bibliophiles. I say fantasy because the independent bookstore in the novel is wildly successful (this is not a plot spoiler--it's on the jacket copy), which is so unrealistic as to be laughable. Still, it's great fun.
Review by leperdbunny
16/06/2015
Title: A Novel BookstoreAuthor: Laurence CosseGenre: Mystery, Contemporary Fiction, French Literature# of pages: 424Start date:End date:Borrowed/bought: boughtMy rating of the book, F- [worst] to A [best]: ADescription of the book: A French bookseller and his friend have a dream of opening a bookstore where they only sell good novels. Soon, someone or someones start attacking their private selection committee.Review: If you like Bibliophile literature- you will enjoy this book. Many parts of the prose are Beautiful. I had to read this book slowly just because I enjoyed the bibliophile talk so much! There was a lot of talk about french literature I had no idea about- so I think I'll be going through the book to look for the literature the author was talking about. The ending was so sad- by then I was so emotionally invested in the characters I had to take a breather- definitely turned into a favorite for me.
Review by TadAD
16/06/2015
The publicity quotes on the back of this thoroughly enjoyable novel will so mislead."a thriller, a romance, and a fairytale," says <i>Le Figaro</i>. "commentary on the world of contemporary publishing," cries <i>La Croix</i>. "An Agatha Christie-style mystery bolstered by a love story," chimes in <i>Madame Figaro</i>. With the possible exception of "fairytale," all these miss the point. Is there a mystery? Well, yes, but it's a plot vehicle rather than the plot and (quite frankly) never does get resolved all that satisfactorily...certainly not to the standards of M. Poirot or Miss Marple. Is there a romance? Yes, more than one, in fact, and quite well done...but these are really minor threads rounding out the characters rather than defining them. Commentary?...hmm, that's a bit like saying <i>Goodbye, Mr. Chips</i> is a commentary on British public boarding schools&amp;mdash;it's there, you can form opinions, but it's not the point.The essence of this story is a paean to the love of reading good books. Ivan and Francesca decide to open a book store, The Good Novel, where you won't find <i>Twilight</i>, anything by Tom Clancy, nor the latest million-selling chick lit. Instead you'll find only great novels, chosen for them by an anonymous panel of some of the best living authors, without regard to publication dates, best seller lists, literary prizes or any criterion beyond the opinion that it is great literature. And therein hangs the tale. The publishers who see 99% of their books rejected and the authors who realize none of their books are represented on the shelves are not happy and a campaign against the store is begun. There is something almost Ayn Rand-ish (without the strong sense of elitism!) about the whole thing except that the reader can discern that it is bruised egos and wallets firing the opposition, not mediocrity.At the beginning, I said that "fairytale" might not quite miss the mark. When I think about the amazing success of the store or about the severity of the reaction, there is more than a bit unreal about it all. However, I don't think it detracts unless you go in looking for a mystery or a commentary. Instead, look for colorful and lovable characters, the author's deep and obvious love for reading, and opportunities to think about a "literary heritage, which is being threatened by forgetfulness and indifference."I'm not sure if <i>A Novel Bookstore</i> would actually make it onto The Good Novel's shelves but I think it would be hard to read this book and not walk away a bit excited and eager for your next good novel.
Review by richardderus
16/06/2015
The Book Report: Well, okay, see, this is a French novel, and it's really, really hard for a Murrikin like me to disentangle what French novels are about, like what the author set out to do, because the French don't really have the same rules we Murrikins do for novel-writing. It seems to be about two people, a rich, smart woman and a poor, smart man, who sorta kinda fall in love in a way and yet they don't because she's married to a major Philistine a-hole and he's in love, for some unfathomable reason, with this dreary little chickie half his age who seems drippy, useless, and uninteresting to *me* and, I suspect, to the rich lady too. So the rich lady does what rich people do best and unbelts with a big pile of gelt for the poor-but-smart dude to start this bookstore that will sell only novels, and only the best, the finest, the most ut of the lit'ry output of the planet, chosen by eight of the best (French) writers now writing. Hijinks ensue, which are frankly completely incredible (in its literal sense), but are lots of fun. What this book is *not* is any species of thriller or mystery; it's a French novel. That's what it is. No more, no less, no different. So, in the end, the Philistine husband and the poor-but-smart dude part ways but the store must go on, and the book's narrator is revealed, though I have to say it's not a huge surprise, though I think it's intended that way. The end, happily ever after but sadder and wiser.My Review: I gave the book a generous 4.1 stars because it's one of those books that, while reading, goes wildly up and down the star scale; but in the end, cover closed, glasses chewed upon, assumes a different shape than the one that the reading process creates.I'd recommend this book to all and sundry if only because of this passage, beautifully translated by the very talented Alison Anderson, on page 150 of the Europa edition:"Literature is a source of pleasure...it is one of the rare inexhaustible joys in life, but it's not only that. It must not be dissociated from reality. Everything is there. That is why I never use the word fiction. Every subtlety in life is material for a book....Have you noticed...that I'm talking about novels? Novels don't contain only exceptional situations, life or death choices, or major ordeals; there are also everyday difficulties, temptations, ordinary disappointments; and, in response, every human attitude, every type of behavior, from the finest to the most wretched. There are books where, as you read, you wonder: What would I have done? It's a question you have to ask yourself. Listen carefully: it is a way to learn to live. There are grown-ups who will say no, literature is not life, that novels teach you nothing. They are wrong. Literature informs, instructs, it prepares you for life."If that passage rings you like the bell you wondered if you might be, then this book will speak to you and shape you a bit differently than you were before; if it seems tediously long, avoid this book like it's got herpes, because you'll hate it.*gooonnnggg* goes my spirit.
Review by sarah-e
16/06/2015
 A Novel Bookstore is not a traditional mystery, or love story, or really quite like anything I've read. The story mixes elements of mystery, romance, and tragedy - the characters are quite important - but the star of this story is the setting. An ideal bookstore, with handpicked selections guaranteed to please the reader. The promise of the books themselves is almost magical: You can't know who picked the books to be on the shelves, but trust us - we, and they, are just like you - we know you'll like any book you pick up in this store. I wanted to go there. I Google Mapped where the bookstore on the rue Dupuytren, Paris would be waiting for me; a centuries-old building on a quiet street. Who would want to destroy such a place? And why? And what must the lives be like of the people who created it? Many personal tragedies and satisfactions, along with what must be the most interesting history of the most interesting bookstore in France are all yours in this book.