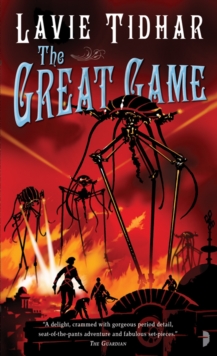 Description
The Lizardine Empire is under threat. When Mycroft Holmes is murdered in London, it is up to retired shadow executive Smith to track down his killer - and stumble on the greatest conspiracy of his life.
Mycroft's protege, returns from Abyssinia with an ancient device that summons deadly, giant tripods.
Across the ocean, a young Harry Houdini faces death...and the return of an enemy once thought vanquished.
File Under: Steampunk [ Alternate History! | Victorians Bite | End Of Days | Oooo-Laaaaah ] "The juicy backstory is unfolded by Tidhar, making it a key part of what makes the narrative so compelling...skilful, clever and hugely enjoyable. 4 ****" - SFX Magazine
Information
Format: Paperback
Pages: 416 pages
Publisher: Watkins Media
Publication Date: 01/02/2012
Category: Science fiction
ISBN: 9780857661982
Free Home Delivery
on all orders
Pick up orders
from local bookshops
Reviews
Showing 1 - 2 of 2 reviews.
Review by shanaqui
16/06/2015
The number of literary references dizzy and delight me, but somehow don't make up for the fact that I'm still left with <I>so many questions</I>. This trilogy is a lot of fun, quick-paced and full of allusions and minglings of history and fiction and a possible future. There are some great kickass female characters (and I don't just mean Lucy Westenra, Action Heroine, I mean Havisham as well, and Irene Adler, and Queen Victoria). It's hard to take it seriously, though, partly because it's such a mass of allusions and homages. The plots of a dozen other stories swirl up with Lavie Tidhar's plot and I just can't keep them separate -- and I imagine anyone who hasn't read a fair few of the books referenced would be equally confused in the other direction.
Review by clfisha
16/06/2015
Pure eclectic litpunk funEmpires rise and fall playing the greatest game, the quest for power and control. Yet the lizard run British empire is losing ground, Frances rebellious Quiet Council of automatons nipping at its heels, a multitude of Chinese infiltrating every where and upstart Vespuccia daring to dream. But there is a new player, the mysterious murderous figure who collects them all, precursor to the long feared alien invasion. An invasion that will rule them all.Conclusion(?) to the Bookman trilogy, satisfyingly tying together the earlier disparate novels. Although this time its gently riffing of the spy novel its pretty much more of the same: a kaleidoscope, fizzing with ideas, full of action and adventure, a huge host of characters, a slightly meandering plot that is lots of fun whether you enjoy spotting those references or not. Explosions, chases and mad escapes, fights in the dark and a glut of fabulously mad scientists (my favourite being Pavlov), ancient artefacts and odd futuristic machines. It's intelligent exuberant mad-cap fun and I heartedly recommend it. The 2nd book may be the best but this is a satisfying conclusion none the less.