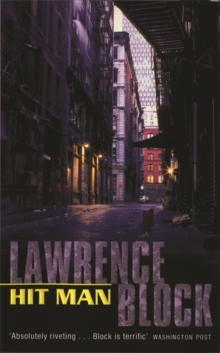 Description
Keller is a hit man who finds his life turned upside down when a job means more than the one allotted death...Keller is an assassin - he is paid by the job and works for a mysterious man who nominates hits and passes on commissions from elsewhere.
Keller goes in, does the job, gets out: usually at a few hours' notice.
Often Keller's work takes him out of New York to other cities, to pretty provincial towns that almost tempt him into moving to the woods and the lake shores . . . Almost, but not quite.But then a job goes wrong in a way Keller has never imagined and it leaves him with a big problem.
Finding himself with an orphan on his hands, Keller's job begins to interfere with his carefully guarded life. And once you let someone in to your life, they tend to want to know what you do when you're away. And killing for a living, lucrative though it is, just doesn't find favour with some folks.
Information
Format: Paperback
Pages: 384 pages
Publisher: Orion Publishing Co
Publication Date: 01/05/1999
Category: Crime & mystery
ISBN: 9780752825922
Free Home Delivery
on all orders
Pick up orders
from local bookshops
Reviews
Showing 1 - 2 of 2 reviews.
Review by paradiso
16/06/2015
very different, great read!
Review by ecw0647
16/06/2015
This is a collection of stories featuring Block's stamp-loving hitman, Keller. If you are looking for a thrill-a-minute with car chases and leaving off tall buildings, keep on going. On the other hand, if you want a well-crafted collection of stories that slowly but painstakingly reveal a man's character through the most mundane of details, you will find a lot to satisfy your cravings.<br/><br/>Keller is portrayed as a normal businessman suffering often from the ennui common to travelers, making minor comments about his surroundings and life in general, people's foibles, society's silliness, in between doing his job, which happens to be killing people. He's totally amoral, seems to have no loves (except perhaps for a dog and Dot, although my perception of that may be colored by what I know happens in some later stories.) His mere mundaneness is a comment in itself.<br/><br/>Block is one of the most talented writers working in the mystery genre and always well-worth reading, except perhaps the Tanner series (he the lover or lost causes and spy who cannot sleep) which, while often humorous and entertaining, seem forced and silly.