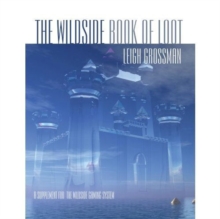 The Wildside Book of Loot
Paperback / softback
Description
What's got more magic treasure than a dragon's hoard?
TheWildside Book of Loot, with its thousands of personalized items has all thetreasure a GM could ever want.
With treasure for every occasion - from theaftermath of a dungeon crawl to those late-night shopping expeditions at thepawnshop selling "lightly used" magic items - The WildsideBook of Loot is an important resource for GMs who want to provide theperfect loot for the occasion.
From basic resources (like tables of the mostcommonly found magic items and a spell point rune generator) to the expected(thousands of weapons and items that raise stats) to the truly exotic (likemagical pets and furniture), The Wildside Book of Loot is a uniqueresource for roleplaying gamers.
Information
Format: Paperback / softback
Pages: 160 pages
Publisher: Wildside Press
Publication Date: 24/09/2007
Category: Indoor games
ISBN: 9780809571826
Also by Leigh Ronald Grossman | View all