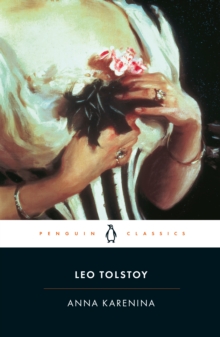 Description
Now the subject of a major new film adaptation from director Joe Wright (Atonement, Pride and Prejudice), Leo Tolstoy's Anna Karenina is translated by award-winning duo Richard Pevear and Larissa Volokhonsky in Penguin Classics.Starring Keira Knightley (A Dangerous Method) as Anna Karenina, Jude Law (Sherlock Holmes) as her husband Alexei, Aaron Johnson (Nowhere Boy) as Count Vronsky, and also starring Matthew McFadyen, Andrea Riseborough and Kelly Macdonald, this dazzling production of Anna Karenina is adapted for the screen by legendary playwright Tom Stoppard.Anna Karenina seems to have everything - beauty, wealth, popularity and an adored son.
But she feels that her life is empty until the moment she encounters the impetuous officer Count Vronsky.
Their subsequent affair scandalizes society and family alike, and soon brings jealousy and bitterness in its wake.
Contrasting with this tale of love and self-destruction is the vividly observed story of Konstantin Levin, a man striving to find contentment and meaning to his life - and also a self-portrait of Tolstoy himself.Acclaimed as the definitive English version of Tolstoy's masterpiece, this edition contains an introduction by Richard Pevear and a preface by John Bayley.
Leo Tolstoy (1828-1910) spent his youth in wasteful idleness until 1851, when he travelled to the Caucasus and joined the army, fighting in the Crimean war.
After marrying in 1862, Tolstoy settled down, managing his estates and writing two of his best-known novels, War and Peace (1869) and Anna Karenina (1878).
A Confession (1879-82) marked a spiritual crisis in his life, and in 1901 he was excommunicated by the Russian Holy Synod.'William Faulkner, it's said, was once asked to name the three best novels ever.
He replied: "Anna Karenina, Anna Karenina, Anna Karenina." If you don't recall why, rush to buy a fine new translation by Richard Pevear and Larissa Volokhonsky'Boyd Tonkin, Independent
Information
Format: Paperback
Pages: 864 pages
Publisher: Penguin Books Ltd
Publication Date: 31/12/2002
Category: Classic fiction (pre c 1945)
ISBN: 9780140449174
Other Formats
Hardback from £8.89
Paperback from £2.50
CD-Audio from £12.95
EPUB from £1.04
eAudiobook MP3 from £5.84
Mixed media product from £10.32
Free Home Delivery
on all orders
Pick up orders
from local bookshops
Reviews
Showing 1 - 5 of 15 reviews.
Previous | Next
Review by Eric_the_Hamster
16/06/2015
What can I say that will do this novel justice? - Initially I was daunted and intimidated at the prospect of reading this. Once I started, I found it very hard to put down. Tolstoy seems to get into people's heads to the extent that it is possible to empathise with the least attractive characters (I think Anna Karenina's husband is a good example of this). This is an age old story of a loveless marriage and a subsequent doomed love affair, culminating in tragedy. Comparable with Mme Bovary and Tess of the D'Urbevilles as a novel by a man which is sympathetic to the unequal position of women in Victorian society.
Review by bcquinnsmom
16/06/2015
The sheer size of this work (this edition, 819 pages!) put me off reading it for so long, but once I started it, it was SO easy to read that I mentally scolded myself for waiting until now to read it. I HIGHLY recommend this book - and enjoyed every second of my reading experience with it.The story is well known, so I won't repeat it here. Tolstoy examines various ideas within the pages of this novel. For me, though, the clearest was that of seeking meaning in one's life within the framework and context of relationships. Every character has in common that he or she is seeking something - and they're not sure what they want out of life. In some cases, what they discover brings tragedy; in others, ruin, yet in others, complete happiness. Maybe I'm all wet on this (I don't claim to be a professional analyst or reviewer), but I saw this theme repeating itself over and over through each one of the main characters. The story follows the fortunes and misfortunes of three families whose lives are interconnected - the Oblonskys, the Karenins and the Levins. It is also a good look at Russian "society" in the 1870s, as well as the myriad currents of political, philosophical, religious and popular notions extant at the time.Anna Karenina is a wonderful book; tragic, yes, but in many ways uplifting and redeeming. I would definitely recommend it if you have a little extra time; one of the better books I've read this year.
Review by Books4Bon
16/06/2015
This book just didn't click for me, I couldn't feel for the characters, I need to read it again to see if I missed something
Review by the_answer_is
16/06/2015
A stunning work of literature, especially good if you can find a group or guide to read along with. Occasionally feels like it should have ended 300 pages earlier, but thats sort of the point from what I've come to understand.
Review by oxyjen
16/06/2015
I probably wouldn't have been very interested in reading Anna Karenina, because I had a preconceived idea of Tolstoy's works due to horror stories of people who had tried to read War and Peace.In "The Unbearable Lightness of Being" one of the characters walks around with the book Anna Karenina all the time. I enjoyed that character, and figured I'd attempt to read it myself.It was like nothing I've ever read before. The characters and story were rich and complex and it was a romantic story that stood the test of time. I still haven't had the guts to read War and Peace, but maybe someday I'll check it out :)