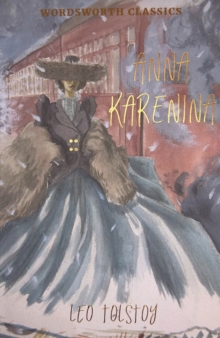 Description
Translated by Louise and Aylmer Maude. Introduction and Notes by E.B. Greenwood, University of Kent. Anna Karenina is one of the most loved and memorable heroines of literature.
Her overwhelming charm dominates a novel of unparalleled richness and density. Tolstoy considered this book to be his first real attempt at a novel form, and it addresses the very nature of society at all levels,- of destiny, death, human relationships and the irreconcilable contradictions of existence.
It ends tragically, and there is much that evokes despair, yet set beside this is an abounding joy in life's many ephemeral pleasures, and a profusion of comic relief.
Information
Format: Paperback
Pages: 848 pages
Publisher: Wordsworth Editions Ltd
Publication Date: 06/09/1995
Category: Classic fiction (pre c 1945)
ISBN: 9781853262715
Other Formats
Paperback from £5.99
Hardback from £8.89
CD-Audio from £12.95
EPUB from £1.04
eAudiobook MP3 from £5.84
Mixed media product from £10.32
Free Home Delivery
on all orders
Pick up orders
from local bookshops
Reviews
Showing 1 - 5 of 7 reviews.
Previous | Next
Review by Wanderlust_Lost
16/06/2015
Tolstoy's tragic and evocative story of life, love, and death in 19th Century Russia is one of the best books I've read. Although it took me a long time to finish I found myself immediately engaging with the characters and drawn into their lives. This is not a "fast paced" novel of adultery and deciet like so many think it is. It's slow-paced, proceeding through the lives of one tragically unhappy extended family and touches on everything from their joys and successes in love, business, and sport to the shortcomings of hopes and aspirations.I don't have many words for how good this book is. It made me cry, but mostly...it gave me hope. Although it is deeply tragic it is also very hopeful. I loved it. What can I say?
Review by soylentgreen23
16/06/2015
I'm struggling to think of a way to properly review this book without resorting to a stream of superlatives. Perhaps there is no other way. It is one of the best books I have ever read, and was immensely satisfying. I'm glad I read it so soon after "War and Peace" - the two belong together.
Review by BookMarkMe
16/06/2015
It would be oh so easy for me to take a dislike to Anna Karenina, the book.; as I disliked Anna Karenina the person but I must temper my impulsive first thoughts. Yes Anna was attractive, condemned through her times to an unhappy marriage, and managed through her own failings to make matters a whole lot worse. Wow, did she manage to irritate me by time of her final rail journey, I just wanted to give a gentle gentle nudge myself. She just reminded me so much of an ex, or perhaps I was looking through a mirror at part of me. That I realised is Tolstoy's charm, he creates characters that I desire to dislike, or like, or attach any other human emotion. I dislike Anna as much as I liked Levin or was as emotive about one of the myriad other characters.I don't attach significance to the difficulty of Russian names and their variations, as I have read more Russian authors they start to make more sense and it becomes a non-issue. It's part of the cultural immersion. I go to Russia, India or Finland and expect to meet Bob or Jim.I don't enjoy all of Tolstoy's tangential mutterings, but one of them provided the most memorable experience of the book. The description of 19th century Russian farming and Levin's day spent in the fields with the peasants scything was the most evocative of the book for me.Characters to think about long after, just wish Anna didn't remind me of that ex. ;-)
Review by Tess22
16/06/2015
Beautiful language. It's such a shame that I hate Anna and Vronsky. The only way I could enjoy this book is by skipping chapters about either of them, which sort of spoils it.
Review by bysunil
16/06/2015
Wonderful literature, gives the feel of old Russian days. The novel sometimes gets over stretched but the author is not to be blamed, coz during the older era people preferred weighty tomes over short novels. More than Anna, I liked the character of Lavin. Anna Karenina is believed to be Leo Tolstoy's autobiographical kind of work for many details of Levin resembles the life of Tolstoy himself.<br/>All in all, a must read for classic lovers.
Also in the Wordsworth Classics series | View all