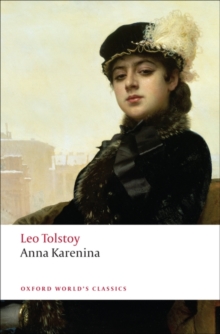 Description
In 1872 the mistress of a neighbouring landowner threw herself under a train at a station near Tolstoy's home.
This gave Tolstoy the starting point he needed for composing what many believe to be the greatest novel ever written.
In writing Anna Karenina he moved away from the vast historical sweep of War and Peace to tell, with extraordinary understanding, the story of an aristocratic woman who brings ruin on herself. Anna's tragedy is interwoven with not only the courtship and marriage of Kitty and Levin but also the lives of many other characters. Rich in incident, powerful in characterization, the novel also expresses Tolstoy's own moral vision. 'The correct way of putting the question is the artist's duty', Chekhov once insisted, and Anna Karenina was the work he chose to make his point. It solves no problem, but it is deeply satisfying because all the questions are put correctly.
ABOUT THE SERIES: For over 100 years Oxford World's Classics has made available the widest range of literature from around the globe. Each affordable volume reflects Oxford's commitment to scholarship, providing the most accurate text plus a wealth of other valuable features, including expert introductions by leading authorities, helpful notes to clarify the text, up-to-date bibliographies for further study, and much more.
Information
Format: Paperback
Pages: 880 pages
Publisher: Oxford University Press
Publication Date: 08/05/2008
ISBN: 9780199536061
Other Formats
Paperback from £2.50
Hardback from £8.89
CD-Audio from £12.95
EPUB from £1.04
eAudiobook MP3 from £5.84
Mixed media product from £10.32
Free Home Delivery
on all orders
Pick up orders
from local bookshops
Reviews
Showing 1 - 2 of 2 reviews.
Review by Helena81
16/06/2015
Despite its length, the characters in Anna Karenina grab you and pull you in. I was not particularly fond of the title character, nor Vronsky, but I cared about their futures, I wanted to know where their love would take them. Levin was one of the most memorable and well-created characters I have ever read, and I will remember him. I also found Kitty incredibly endearing. Contrary to some other reviewers, in general, I liked Levin's struggles with his own opinions about the peasants' life and labors. The only part of the book that dragged a little for me was the section on the election. I was also a little disappointed in the last 5 or so per cent of the book, after the real denouement (which I won't ruin), although I understand that the before the book ends Levin has to find mental peace somehow. I also found it a little jarring the extent to which many characters (especially Anna, Levin, and Vronsky) veered from love to hate and from happy to sad, at a moment's motice.There's no questionining why this book is held up as so great: epic in its scope, its language, its character studies, its conjuring of a milieu, and its ruminations on the uneven and uneasy transition to modernity, Anna Karenina is undoubtedly an unbeatable classic.
Review by jnwelch
16/06/2015
SPOILERS APLENTY Don't read this if you're worried about spoilers. It's not really a review, but some thoughts that came up from reading Anna Karenina by Leo Tolstoy.Maybe because I'm cold and heartless, I found Anna's high-pitched emotionality grating. Once she got on the Vronsky train, she gradually (or not so gradually) transformed from an elegant, composed, thoughtful woman into a caterwaul. Obviously, a major reason for this was the tension caused by her complete obsession with Vronsky - he was her only hope, as she says more than once - and the disapproval of society wherever they went. (An idyll in Italy is the exception, but they find it unsatisfying). By the end, Anna's obsessive jealousy and desperate need for more of his love has her destroying their relationship. Vronsky isn't exactly admirable, so dumping him would have been fine, but of course the only solution she finds is to commit suicide by throwing herself under a train.Levin (someone said he's an autobiographical character for Tolstoy) and Kitty, with their measured, thoughtful and largely graceful love, were a huge relief throughout for me from the Anna-Vronsky high-pitched passion. Tolstoy of course works that contrast in dramatic ways through much of the book. Levin and Kitty for some reason made me think of Louisa May Alcott's books. The plane they operated on was beautiful to read about. Also, Jane Austen came to mind, as Kitty first foolishly turns down Levin's proposal due to an infatuation with Vronsky, and learns to regret it before she and Levin finally are reunited.What kept running through my mind was, what would Anna be like today in this situation? Would pharmaceuticals help alleviate her anxiety, and enable her to deal more rationally with her life? Soften that irrepressible hatred for Karenin, allow her to visit more reasonably with her son, help her avoid her irrational desperation toward Vronsky and find a way to happiness? What about easy, no-fault divorce? Instead of the sturm and drang with Karenin, just go your separate ways, marry that putz Vronsky, and carry on. How about a more progressive society, with much less of the shunning?I know, she's the title character, very important, look at all we'd lose. But would we? If a more sensible Anna made more sensible choices in a more sensible world, would we still care about her? I'd be willing to find out, if only to get some relief from her clanging emotions, particularly toward the end. (I'm fine with emotional characters generally, but the increasingly falling apart Anna I'd had enough of). And maybe a more sensible Anna would mean we could get more of Levin and Kitty's story, which would be fine with me. (I could do with a whole lot less of Levin's religious and philosophical questioning, by the way, but we'll leave that for another day). We might end up with Alcott-like or Austen-like characters sorting it out. If we wanted to keep a similar dynamic, Anna could be a Lydia-equivalent I suppose, with Vronsky as Wickham.All right, enough carping. The Maude translation was smooth and engaging. There were beautiful stretches in the book, like Levin mowing with the peasants, and the birth of Levin and Kitty's son, with Levin desperately frightened that Kitty might not survive. The latter was well-contrasted with Anna wishing she had died in childbirth, as that would have "solved everything." I was also struck at the end by Vronsky's trying to remember Anna as she was at the beginning of their relationship, rather than the "cruelly vindictive" (from his POV) Anna at the end.I'm glad I read Anna Karenina, but you can tell it will never be up there as a favorite for me.
Also in the Oxford World's Classics series | View all