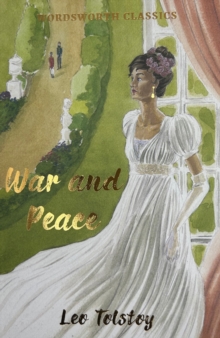 Description
War and Peace is a vast epic centred on Napoleon's war with Russia.
While it expresses Tolstoy's view that history is an inexorable process which man cannot influence, he peoples his great novel with a cast of over five hundred characters. Three of these, the artless and delightful Natasha Rostov, the world-weary Prince Andrew Bolkonsky and the idealistic Pierre Bezukhov illustrate Tolstoy's philosophy in this novel of unquestioned mastery.
This translation is one which received Tolstoy's approval.
Information
Format: Paperback
Pages: 1024 pages
Publisher: Wordsworth Editions Ltd
Publication Date: 01/07/1993
Category: Classic fiction (pre c 1945)
ISBN: 9781853260629
Other Formats
Paperback from £7.09
Hardback from £14.15
CD-Audio from £13.05
EPUB from £1.04
eAudiobook MP3 from £11.89
PDF from £7.14
Free Home Delivery
on all orders
Pick up orders
from local bookshops
Reviews
Showing 1 - 5 of 5 reviews.
Review by woollymammoth
16/06/2015
Started reading it on my elective in the Hebrides. Loved it but didn't get back into it once I was back on the main land. very good so far.
Review by soylentgreen23
16/06/2015
I'll be the first to admit it: I chose to read "War and Peace" because of the bragging rights. But all that has now been forgotten, because Tolstoy's epic really is one of the greatest books ever to have been written. His style is natural and draws the reader in deeper and deeper, and had I been able to edit the text myself, I would not have deleted a single word.
Review by Eruntane
16/06/2015
This book took me nearly three months to get through, but it was definitely worth it, and not only for the slightly smug satisfaction of now being someone who has actually read War and Peace! Tolstoy has once again created a set of characters whom you can love or love to hate, and about whom you really care. It's a bit of a shame that he keeps interrupting their story in order to include his own philosophy, and the second epilogue was particularly challenging because there wasn't the incentive of "Once I've ploughed through this bit I can get back to the story!" to help. But in his defence, he didn't set out to write a novel, and the end result was, in his own words, what he wanted it to be. So fair play to him - how many writers can truthfully say that?
Review by Luli81
16/06/2015
Before I turned the last page of this massive volume, which had been neglected in my bookshelves for more than six years, War and Peace was a pending task in my mental reading universe knowing it to be one of the greatest Russian or maybe simply one of the greatest novels of all times.Well, in fact, it was something else. I have a selective memory, I don't know whether it comes as a blessing or as a curse, that enables me to remember the most insignificant details like for instance, where and when I bought my books, which are often second hand copies. When I pull one of them off my shelves it usually comes loaded with recollections of a certain moment of my life that add up to the mute history of their usually worn and yellow pages.So, War and Peace was also a memory. This one had to do with an unusual cloudless and shiny afternoon spent in Greenwich Park eating the greatest take-away noodles I had ever tasted and browsing through my newest literary purchases, recently bought in one of those typical British second-hand bookshops, where I spent hours besotted with that particular scent of moldy ancient paper.That's what War and Peace meant to me until I finally shook my sloth off and decided to read it. It turns out I rather lived than read it, or maybe the book read me, but in any case, I curse my lazy self for not having taken the plunge much sooner.This book is an electroshock for the soul. There is no division between Tolstoy's art and his philosophy, just as there is no way to separate fiction from discussions about history in this novel. Without a unifying theme, without so much a plot or a clear ending, War and Peace is a challenge to the genre of the novel and to narrative in history. Tolstoy groped toward a different truth- one that would capture the totality of history, as it was experienced, and teach people how to live with its burden. Who am I?, What do I live for?, Why was I born? These are existential questions on the meaning of life that restlessly impregnate this "novel", which also deals with the responsibility of the individual, who has to strive against the dichotomy of free will as opposed to the influence of the external world, in the course of history. Fictional and historical characters blend naturally in the narration, which occasionally turns into a reasoned philosophical digression, exploring the way individual lives affect the progress of history, challenging the nature of truth accepted by modern historians.Tostoy's syntax is unconventional. He frequently ignores the rules of grammar and word order, deliberately reiterating mannerisms or physical details to identify his characters, suggesting their moral qualities. He uses several languages gradually changing their sense, especially with French, which eventually emerges as the language of artifice and insincerity, the language of the theater and deceit whereas Russian appears as the language of honesty and seriousness and the reader becomes a privileged witness of the formation of a community and national consciousness. In repeating words and phrases, a rhythm and rhetorical effect is achieved, strengthening the philosophical pondering of the characters. I was emotionally enraptured by the scene in which Count Bezukhov asks himself what's the meaning of love when he glances at the smiling face of Natasha or when Prince Andrey lies wounded in Austerlitz battlefield looking up at the endless firmament, welcoming the mystery of death and mourning for his hapless and already fading life. The book is full of memorable scenes which will remain imprinted in my retina, eternal flashing images transfixing me quite: the beauty of Natasha's uncovered shoulders emerging from her golden dress, the glow of bonfires lit by kid-soldiers in the night before a battle, the agony of men taken prisoners and the absent faces of circumstantial executioners while shooting their fellowmen, the unbearable pain of a mother when she learns of her son's death, a silent declaration of love in a dancing embrace full of youth and promise…War and Peace is much more than a novel. It is a vast, detailed account - maybe even a sort of diary or a confession- of a world about to explode in constant contradiction where two ways of being coexist: war and peace. Peace understood not only as the absence of war, but mainly as the so much coveted state in which the individual gets hold of the key to his identity and happiness, achieving harmonious communion with others along the way.Now that I have finally read this masterpiece, I think I can better grasp what this "novel" represents among all the great works of art created by men throughout our venturesome existence: the Sistine Chapel or the 9th Symphony of Literature, an absolute triumph of the creative mind, of the spirit of humankind and a virtuous affirmation of human life in all its richness and complexity.My battered copy of War and Peace and I have fought many battles together, hand in hand. We have been gently soaked by the descent of moist beads in the misty drizzle at dawn in Paracas. We have been splashed by the salty waves of the Pacific Ocean only to be dried off later by the sandy wind blowing from the dunes of the Huacachina Desert. We have been blessed by the limpid droplets dripping down from branches of Eucalyptus Trees in the Sacred Valley of the Incas and scorched by the blinding sunbeams in Nazca. Particles of ourselves were left behind, dissolved into the damp shroud of grey mist falling from the melting sky in MachuPicchu, and whatever remained of us tried to breathe in deeply the fragrant air of those dark, warm nights spent under scintillating stars scattered endlessly down the Peruvian sky.With wrinkled pages, tattered covers and unglued spine, my copy of War and Peace has managed to come back home. I have just put it back reverently on my bookshelf for literary gems, where I can spot it at first glance. An unbreakable connection has been established between us as fellow travellers, as wanderers of the world. Somehow, we have threaded our own unique history; an unrepeatable path has been laid down for us. The story of this particular shabby copy comes to an end though, because I won't ever part from it. My copy of War and Peace has come back home, where I intent to keep it, now for good. No more war for these battered pages but everlasting peace emanating from my shelves for all times to come.
Review by Kristelh
16/06/2015
I finished the book in 86 days and it did feel like an endurance test at times. Now to write something about this masterpiece that will do it justice. The story is of two families, the Bolkonshys and Rostovs and uses their lives to portray Russia before and during the conflict with Napoléon. Tolstoy gives you a panoramic view as great as Russia; a view of the city, the country, the movement of armies. There is a lot of detail in these pages. His character develop is built on little physical details. Such as Pierre's shortsightedness, Mary's eyes, Lise's lip. In the lives of these people, Tolstoy gives you insight through their eyes as unique individuals. Interspersed with the personal lives of the characters is the historical novel and Tolstoy's own philosophy of history and power. I never was very good at paying attention to history when younger though it is a lot more interesting now, I will have to say, I learned a lot about Napoleon and the war of 1812 that I didn't get in school. I've read all of the Tolstoy novels on the 1001 list now and while <i>War and Peace</i> is not my favorite, I really like Tolstoy's works and am glad to have read them.
Also in the Wordsworth Classics series | View all