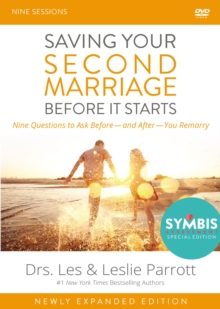 Saving Your Second Marriage Before it Starts Video Study
DVD video
Description
Build your second marriage on more than a hope and a prayer. Beat the odds and make remarriage the best thing that's ever happened to you. Sixty percent of second marriages fail, but yours can be among the ones that succeed.
Relationship experts Les and Leslie Parrott show how you can beat the odds with flying colors and build a future together that is everything marriage can and ought to be. More than a million couples have used the award-winning Saving Your Marriage Before It Starts to prepare for life-long love. And now, with Saving Your Second Marriage Before It Starts, Les and Leslie have added material for couples where one or both individuals are entering marriage for the second time.
In this course you will: Face the myths of remarriage Learn to communicate with instant understanding Discover the secret to resolving conflict Master the skills of money management Get your sex life off to a great start Learn how to blend a family This comprehensive marriage program is designed specifically for today's couples by a couple.
This study is full of lively exercises and enlightening self-tests that will help couples apply what they are learning directly to their relationship.
Sessions include: Are You Ready to Get Married Again? (14 min.) Have You Faced the Myths of Remarriage with Honesty? (29 min.) Can You Identify Your Love Style? (30 min.) Have You Developed the Habit of Happiness? (19 min.) Can You Say What You Mean and Understand What You Hear? (19 min.) Have You Bridged the Gender Gap? (21 min.) Do You Know How to Fight a Good Fight? (32 min.) Do You Know How to Blend a Family? (15 min.) Are You and Your Partner Soul Mates? (15 min.) Included with the DVD is one 32-page leader's guide for the facilitator. Designed for use with Saving Your Second Marriage Before It Starts Workbook for Men Updated (9780310875598) and Saving Your Marriage Before It Starts Workbook for Women Updated (9780310875710), both sold separately. The SYMBIS Assessment (R) shows two people how their personalities mesh in marriage.
For information about completing the SYMBIS Assessment, which is recommended for both partners prior to beginning the SYMBIS course, visit http://www.symbisassessment.com.
Information
Format: DVD video
Publisher: Zondervan
Publication Date: 19/11/2015
ISBN: 9780310885436