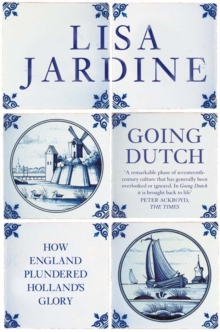 Going Dutch : How England Plundered Holland's Glory
Paperback
Description
A fascinating exploration of the relationship of competition and assimilation between the Netherlands and England during the 17th century, revealing the ways in which Dutch tolerance, resilience and commercial acumen effectively conquered Britain by reshaping its intellectual landscape, long before Dutch monarchs sat on the English throne.Working backwards from the bloodless revolution that set William and Mary of Orange on the English throne in 1688, this bold and ambitious work redefines the history of cultural and commercial interconnection between two of the world's most powerful trading empires at a time of great intellectual and geographical discovery.Weaving together the lives of the great thinkers of the time, Lisa Jardine demonstrates how individuals such as Anton van Leeuwenhoek, Christiaan Huygens and Margaret Cavendish, usually depicted as instances of isolated genius, in fact evolved within a context of easy Anglo-Dutch exchange that laid the groundwork for the European Enlightenment and the Scientific Revolution.Beautifully illustrated throughout, this is a fascinating history of big ideas and remarkable individuals.
It denounces the traditional view that the rise of England as a world power took place at the expense of the Dutch, asserting instead that what is usually interpreted as the decline of the Dutch trading empire was in fact a 'passing on' of the baton to a Britain expanding in power and influence.
Information
Format: Paperback
Pages: 352 pages, 80 b/w illus, 40 col plates (16pp)
Publisher: HarperCollins Publishers
Publication Date: 19/02/2009
Category: European history
ISBN: 9780007197347
Free Home Delivery
on all orders
Pick up orders
from local bookshops
Reviews
Showing 1 - 1 of 1 reviews.
Review by Eyejaybee
16/06/2015
In this entertaining study of British history from the late seventeenth century Professor Jardine analyses he steps that brought about the Glorious Revolution which saw James II deposed in favour of his daughter Mary and her husband William of Orange. While everyone remembers the failed Spanish Armada of 1588, the far larger and more effective Dutch invasion fleet that set out against Britain exactly one hundred years later tends to be overlooked in the communal shared memory of history (at least in Britain!).However, although Britain was either openly at war with, or at least in a state of muted belligerence towards, Holland throughout much of the 1670s and 1680s, there was a flourishing exchange of cultural endeavour, and even the open correspondence about scientific and technological advances (even though many of them were of military value). This was, after all, a golden age for science, which saw the launch of the Royal Society under the patronage of Charles II. This is territory that Professor Jardine has already richly harvested in her biographies of Wren and Hooke, and "Ingenious Pursuits", her history of the Scientific Revolution and the Age of Enlightenment. She writes with a great clarity that lets her immense enthusiasm shine through. Of course, it is not at all surprising that she should show such zest for the pursuit of knowledge - after all, her father was Professor Jacob Bronowski. However, her particular gift is the ability to convey that enthusiasm to her readers, even those without a strong scientific grounding themselves.