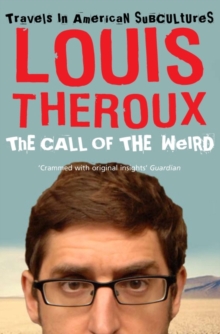 The Call of the Weird : Travels in American Subcultures
Paperback
Description
For ten years Louis Theroux has been making programmes about off-beat characters on the fringes of US society.
Now he revisits America and the people who have most fascinated him to try to discover what motivates them, why they believe the things they believe, and to find out what has happened to them since he last saw them.
Along the way Louis thinks about what drives him to spend so much time among weird people, and considers whether he's learned anything about himself in the course of ten years working with them.
Has he manipulated the people he's interviewed, or have they manipulated him?
From his Las Vegas base, Louis revisits the assorted dreamers and outlaws who have been his TV feeding ground.
Attempting to understand a little about himself and the workings of his own mind, Louis considers questions such as: What is the difference between pathology and 'normal' weirdness?
Is there something particularly weird about Americans?
What does it mean to be weird, or 'to be yourself'? And do we choose our beliefs or do our beliefs choose us?
Information
Format: Paperback
Pages: 304 pages
Publisher: Pan Macmillan
Publication Date: 01/07/2006
Category: Humour
ISBN: 9780330435703
Free Home Delivery
on all orders
Pick up orders
from local bookshops
Reviews
Showing 1 - 5 of 6 reviews.
Previous | Next
Review by Clurb
16/06/2015
This book follows on from Theroux's entertaining BBC series and revisits some of the more memorable characters he's interviewed, including male porn stars, prostitutes, a Nazi-mom, and Ike Turner. It's readable and enjoyable for what it is but don't expect any mind-blowing conclusions to be reached.
Review by soylentgreen23
16/06/2015
This is Louis's follow-up to his series of television documentaries exploring the American sub-cultural landscapes, "Weird Weekends." For a debut novellist, Theroux's writing zips and never drags; he has evidently inherited a lot of his father's panache and journalistic leanings. Theroux visits some of his more notorious interviewees, from the Aryan subversives to the man who claimed to have killed aliens ala Independence Day, yet there is a seam of humanity that runs through his adventure and his writing; wisely, it never seems that Theroux is taking liberties, or taking the piss.
Review by alexleonard
16/06/2015
An entertaining and easy read. Gives a bit more of an insight into Louis Theroux's personality, something which always seemed a bit difficult to judge in the TV show.Quite interesting to hear what had happened to some of the interviewees as well.
Review by HenriMoreaux
16/06/2015
Having seen numerous Louis Theroux documentaries including the BBC weird weekend series I was immediately intrigued by this book - it sounded like it would be an interesting read to catch up where many of the subjects now were.Whilst it would be helpful to have seen the documentaries before reading the book to have some additional background, there is however enough overlap in the book for you to know what's going on if you haven't seen them, or have forgotten most of it. Thankfully, it's not so much overlap that it's boring if you can remember. Some of the backgrounds also contain insights and commentary not covered in the original documentaries.One thing I noticed was that I found myself reading some sections in the voice of Louis Theroux.Overall, it was an light yet enjoyable book providing an insight into subcultures not many folk have contact with.
Review by ElaineRuss
16/06/2015
A more accurate rating for this would have been 3.5.<br/><br/>Louis is as skilled a writer as he is documentary maker. This book is very interesting but ultimately offers more of an insight into the author, than his subjects. Which is great for anyone that has seen the intial series of documentaries but possibly frustrating for those expecting an examination of American subculture