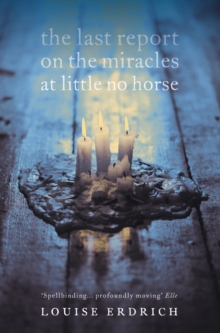 The Last Report on the Miracles at Little No Horse
Paperback
Description
A powerfully involving novel from one of America's finest writers, and winner of America's prestigious National Book Award for Fiction 2012Sister Cecilia lives for music, for those hours when she can play her beloved Chopin on the piano.
It isn't that she neglects her other duties, rather it is the playing itself - distilled of longing - that disturbs her sisters.
The very air of the convent thickens with the passion of her music, and the young girl is asked to leave. And so it is that Sister Cecilia appears before Berndt Vogel on his farm, destitute, looking for sanctuary.Decades later, old Father Damien lays down his pen and dresses for bed.
Slowly, he removes his heavy robes, undergarments and, at last, a bandage wound tightly around woman's breasts.
Having lived for so long as a man, he fears that the discovery of his true identity will undo all that he has accomplished...Moving and lyrical, `The Last Report on the Miracles at Little No Horse' is a powerful work from one of contemporary literature's brightest stars.
Information
Format: Paperback
Pages: 320 pages
Publisher: HarperCollins Publishers
Publication Date: 01/12/2002
ISBN: 9780007136353
Other Formats
eAudiobook MP3 from £19.59
Free Home Delivery
on all orders
Pick up orders
from local bookshops
Reviews
Showing 1 - 5 of 5 reviews.
Review by zina
16/06/2015
Amazing story - have recommended it to everyone. Historical, gender issues, combines native american and catholic beliefs in an unforgettable tale.
Review by MarianV
16/06/2015
A novel that begins with an unlikely premise -- an ex-nun, fleeing a flood comes upon the body of a drowned priest. The priest was on his way to serve at the Chippewa mission at Little No-Horse Reservation & the ex-nun decides to serve in his stead, taking on his complete identity including his gender. The story comes together perfectly. Louise Erdrich brings on her cast of Chippewas we have come to know from her previous novels & new characters are interwoven into the plot. A dispute concerning the proposed sainthood of an unstable nun whom the "priest" knows was not a worker of miracles adds tension to the narrative. Forbidden romance & the hardships of a primitive environment also complicate the story. But it is the people themselves that Ms. Erdrich portrays in all their humanity that makes this an unforgetable work of literature.
Review by samanthadeirdre
16/06/2015
Father Damien Modeste is the priest at the Ojibwe Indian reservation, Little No Horse. He is getting old, and despite his best efforts, his buried secrets have begun to worm their way to the surface. Father Damien is a woman who has been living for the last half century disguised as a man. Now, at the end of his life, he worries that all the good he has done as a priest will be undone when his secret is discovered. The characters in this novel are perfect – Erdrich writes them with deeply felt compassion and her sense of humor bubbles up every now and then, just at the right time.
Review by ageoflibrarius
16/06/2015
so imaginative--can't wait to see what happens next. and the writing itself is wonderul
Review by MaureenCean
02/03/2016
I hope the folks who are kind enough to read my reviews do not mind that I don't summarize the plot - I am satisfied for the most part with what GR has to say and so many reviewers summarize it too - and I just don't have the time, so I just give you my reactions - thanks if you keep reading. This was a book club selection - I could not finish it in the time I allotted before the meeting. My bad, given that I am the leader of the club...but I was heartened when no one else had finished by the time of the meeting. That being said, I really did like this book, and the fact that her latest work earned a major book award just underscores the fact that I am just a regular reader, and not any sort of literary scholar. I enjoyed the spiritualism, and how it compared and contrasted with the Catholic faith, I found some aspects of the early part of the book to be just bizzarre - especially Agnes' bond to music, then replaced by sensuality - and then her journey to to the Ojibwe. It was in a sense mythological on its own. Part of my enjoyment I am sure was sourced from the fact that I adored mythology as teen, from anywhere on the planet, including Native American. I am pleased that it ended the way it did, with the focus of possible beatification shifting to the true hero/heroine.