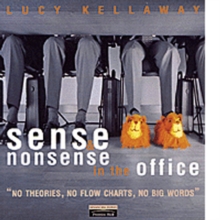 Sense and Nonsense in the Office With Lucy Kellaway
Paperback
Description
"NO THEORIES, NO FLOW CHARTS, NO BIG WORDS""In producing a business book I am aware that I have broken one of my own rules.
Over the years I have made good money scoffing and sneering at management books, and yet here I am producing one myself." - Lucy Kellaway Sense and Nonsense in the Office offers no tips, no formulas, no panaceas, no handy hints.
You may be wondering what that leaves. What it leaves is a set of prejudices. You think it sounds unpromising? The good thing about someone else's prejudices is that they either confirm your own, or they make you cross - either of which is a blessing in these bland times. "... what I am trying to write about is true life. About work and management as they actually are." - Lucy Kellaway What exactly are my 'basic ideas' on management?
After a bit of thought I have come up with the following observations and generalities.
They are, of course, glaringly obvious. But then management ideas are obvious. Any that aren't obvious tend to be wrong. Rule 1 Management is one of the most difficult jobs going, and is harder now than ever because the challenges are greater.
Rule 2 Most people are bad at managing, some are very bad.
Hardly anyone can do it well. Rule 3 Good managers need to be both hard and soft, decent and ruthless, good at the big picture and at the small detail.
Rule 4 In view of the above, the market for management consultants, trainers, gurus, business schools and business books is expanding, apparently without limit. Rule 5 While most of the management help industry is of dubious value, managers do need the experience and advice of wise outsiders.
But to follow that advice blindly - as many companies do - is, of course, idiotic.
Rule 6 Any new management technique that comes with a catchphrase is suspect.
It almost certainly will not suit the company in question, and even if it does, the management will probably fail to apply it properly. Rule 7 It is hard to teach a middle-aged dog new tricks.
People who are rotten communicators do not become better by virtue of having been on a course, or read a book.
Improving and changing is a long, painful slog. Rule 8 People like security. They like to be told what to do. Empowerment and flat structures are over-rated. Rule 9 All work is tedious for much of the time. If everyone accepts this, then so much the better. That is the short answer. The long answer is this book, which is based on five years of writing a management column for the Financial Times.
ContentsManagement Consultants * Fads * Management Books * Jargon, Euphemism & Plain Flannel * Training * Leadership * Consumers * Men & Women * Another Day in the Office * Managing at Home * Stress, Health & Self-Help * Office Design
Information
Format: Paperback
Pages: 256 pages
Publisher: Pearson Education Limited
Publication Date: 09/12/1999
Category: Office & workplace
ISBN: 9780273645092
Free Home Delivery
on all orders
Pick up orders
from local bookshops