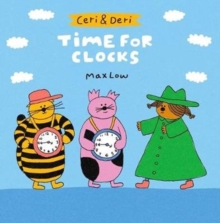 CERI DERI TIME FOR CLOCKS
Paperback
Part of the CERI DERI series
Description
When Deri is late to meet up with Ceri, they wonder how toovercome this in the future.Fortunately, their friend Gwen Green has a solution and giveseach of them a clock.
But Ceri and Deri have never seen aclock and dont know how to use them Gwen knows just wat todo.
She marks specific times of day with something they arepassionate about mealtimesA fun introduction to clocks and time management for children.
Information
Format: Paperback
Pages: 36 pages
Publisher: ROUNDHOUSE PUBLISHING GROUP
Publication Date: 01/07/2020
ISBN: 9781595728692
Also in the CERI DERI series