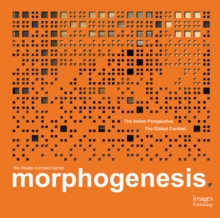 Morphogenesis: The Indian Perspective. The Global Context.
Hardback
Description
This highly anticipated new monograph delves into an exciting selection of esteemed works by Delhi-based firm Morphogenesis, one of the most productive and creative architectural firms in India and a world-leader in zero net energy and sustainable design.
This richly illustrated book combines stunning imagery with a comprehensive study outlining the firm's strong philosophical design intent across a vast range of typologies: residential; institutional; commercial; hospitality; offices; houses; interiors; public and master planning.
Morphogenesis reinterprets India's architectural roots and consistently employs passive environmental solutions for a unique, contextual contemporary language.
The Morphogenesis journey is a reflection of the contemporary Indian perspective within the global context, incorporating its inspired, forward-thinking vision while respectfully referencing the spirit of traditional Indian subcontinental architecture, and all the while maintaining an intimate focus on the environmental context and culture of the project. AUTHOR: Manit Rastogi Founding Partner Graduated from the School of Planning and Architecture (New Delhi) and the Architectural Association (London) with Honours in Energy and Environmental Studies.
Manit is a Fellow of the IIA (Indian Institute of Architects) and the RSA (Royal Society of Arts, UK).
Manit has taught at various universities and been a director of the Sushant School of Art and Architecture as well as the Sushant School of Design.
He has been a juror on several design and award juries. SELLING POINTS: * Morphogenesis is one of India's leading award-winning Architecture and Urban Design practices based out of New Delhi, India; this book discusses in detail how Morphogenesis is a design practice engaging in a critical dialogue towards bridging the boundaries of architecture, design, urbanism, and environmental design in India * Highlights Morphogenesis' core belief in sustainability and how it shapes all their projects, that is it is not treated as a layer of applied technology on building systems but forms the very basis of their designs * Strong narrative essays will discuss the architectural journey, featuring the strong relationships between the interiors and exteriors 200 col.
Information
Format:Hardback
Pages:224 pages, 200 colour
Publisher:Images Publishing Group Pty Ltd
Publication Date:27/04/2016
Category:
ISBN:9781864706628