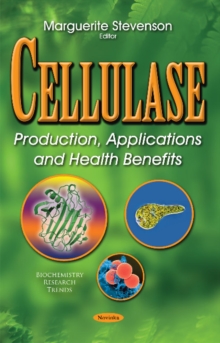 Cellulase : Production, Applications & Health Benefits
Paperback / softback
Description
Enzymes such as cellulases have been applied as tools for research and development and in almost every industrial sector including agriculture, food, beverages and animal feed, pulp and paper, textile.
Cellulases is a general term that encompasses multiple enzymes that work in synergism for cellulose degradation.
This book examines the production, applications and health benefits of cellulase.
Chapter One describes the isolation, screening, diversity and cellulase production of microorganisms including their applications.
Chapter Two discusses the factors affecting production of cellulase enzyme by microorganisms, the potential of indigenous microorganism for the bio-augmentation process of biosolids and occurrence of catabolite repression phenomenon of cellulase production during the enzymatic degradation of biosolids.
Chapter Three gives an overview on cellulase microorganism producers, cellulolytic components and mechanism of action, with a focus on fungal enzymes of Trichoderma reesei, since they are predominant on the commercial cocktails used for 2G ethanol production.
Chapter Four addresses substrate factors related to enzymatic hydrolysis of cellulose and lignocellulosic materials.
Information
Format: Paperback / softback
Pages: 112 pages
Publisher: Nova Science Publishers Inc
Publication Date: 01/09/2016
Category: Biochemistry
ISBN: 9781634857888