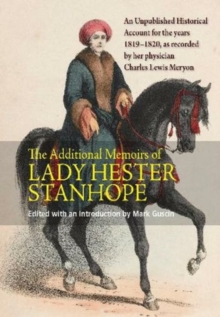 Additional Memoirs of Lady Hester Stanhope : An Unpublished Historical Account for the Years 1819-1820, as Recorded by Her Physician Charles Lewis Meryon
Hardback
Description
In 1845 and 1846 Charles Lewis Meryon published the two three-volume sets The Memoirs of the Lady Hester Stanhope and The Travels of the Lady Hester Stanhope, which is still the most important source for the early life and first travels of Lady Hester.
Towards the end of his life he wrote the Additional Memoirs for the years 1819-1820, the manuscript of which has lain virtually untouched and unknown for the last 150 years.
Recently brought to light and edited with an introduction by Mark Guscin, the Additional Memoirs contains invaluable and fascinating new information about the life not only of Lady Hester, covering in addition to the period 1819-1820 anecdotes and stories from the rest of her life, but also of Meryon himself, finally solving the mystery behind his lengthy and time-consuming journey back to the Lebanon in 1819 and the reasons why he left Lady Hester again almost immediately upon arrival.
Many have speculated on the reasons for this journey and why it came to such an abrupt end, and now Meryon himself tells the whole story in his own words.
This is essential eye-witness reading for anyone with an interest in nineteenth-century England and Europe, the Middle East, travel (including a detailed description of what was involved in quarantine) and more specifically, the Stanhope family.
A companion volume to Mark Guscins A Very Good Sort of Man: Life of Dr Charles Lewis Meryon (17831877).
Information
Format: Hardback
Pages: 400 pages, illus
Publisher: Sussex Academic Press
Publication Date: 10/08/2017
Category: Memoirs
ISBN: 9781845198732
Free Home Delivery
on all orders
Pick up orders
from local bookshops