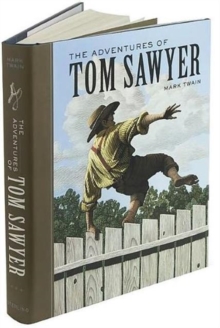 The Adventures of Tom Sawyer
Hardback
Description
The adventures of a mischievous young boy and his friends growing up in a Mississippi River town in the nineteenth century.
Information
Format: Hardback
Pages: 224 pages, Illustrations
Publisher: Sterling Juvenile
Publication Date: 01/10/2004
Category: Classic
ISBN: 9781402714603
Other Formats
Paperback from £2.50
CD-Audio from £8.65
Leather / fine binding from £13.65
Mixed media product from £8.34
Hardback from £6.45
EPUB from £0.99
Free Home Delivery
on all orders
Pick up orders
from local bookshops
Reviews
Showing 1 - 5 of 6 reviews.
Previous | Next
Review by bigorangecat
16/06/2015
A million times better than "Huckleberry Finn."
Review by KendraRenee
16/06/2015
Mark Twain's style doesn't disappoint. He writes in such a way that I forget he's even there, between the reader and the story. The dialogue, I think, is the best part; Twain does it so well it's like hearing the characters themselves speak straight out from the pages. Unfortunately, I read this at age 24 and so, by that point, knew the story so well through other venues (Wishbone, tv specials, movies, etc.) that nothing could at all surprise me. But still, I enjoyed it--especially the religious waywardness of its central characters. Just don't know what to make of the talk of, and attitude towards, blacks. Is Twain unconsciously or satirically reflecting the mindset of those times?
Review by Greymowser
02/03/2016
A very adult children's book.
Review by GrazianoRonca
16/06/2015
The 100th anniversary of Twain's death is April, 21 2010. Tom Sawyer lives with his Aunt Polly and his half-brother, Sid, in the Mississippi River town of St. Petersburg, Missouri. His best friend (buddy) and companion of adventures Huck Finn helps Tom to invent how to avoid school, and get fun night and day. The main themes are: children looking for trouble, adults as adults always do, and humorism tinged with satire. Sometimes Tom disappears in the Huck's shadow, and sometimes Tom and Huck work together: these passages are most successful with Twain's job. For example:Huck: 'When you going to start the gang and turn robbers?'Tom: 'We'll get the boys together and have the initiation tonight, maybe.'Huck: 'Have the which?'Tom: 'Have the initiation.'Huck: 'What's that?'Tom: ' It's to swear ... etc etc The Adventures of Tom Sawyer is a classic book suitable for all ages.
Review by nmhale
16/06/2015
I finished my second book in my ongoing mission to read classic literature out loud to my daughter. We started with Winnie the Pooh, and then I settled on Tom Sawyer, since I had recently read Huckleberry Finn for myself; however I think that Milne's series is better for her at this age. I enjoyed reading the story, at least, even if she mostly fell asleep to the monotonous rhythm of my voice.I've read Twain's sequel (of sorts) to this story three times, but never this one. It was an oversight I intended to correct some day, and since this book is considered classic children's literature, and less heavy than Huckleberry, I decided to complete two goals at once and read it to my daughter. The story covers a period in young Tom Sawyer's life, as he hunts for buried treasure (repeatedly), plays pirates or maybe thieves with his friends, runs away, falls in love, and generally behaves like a mischevious scamp of a boy. Most of us know many bits and pieces of this book, as it has become a part of our literary heritage (who hasn't heard of Tom Sawyer's white fence episode), so I will keep my comments to opinions on the story instead of a lengthy recounting of plot.I've always admired Twain's wit, and while Tom Sawyer does not fully demonstrate his skills as a writer, it does bear his characteristic droll humor and cynicism. I think of the passage where he recounts the sentimental school recitations, or his observations of the town's behavior at church. Tom is the perfect vehicle for Twain's tongue-in-cheek observations; a young boy who revolts against social mores because they hamper his freedom. There is much I like about Tom. He is imaginative and clever, he has a sense of honor, like when he takes a beating for Becky, and has deep love for his family despite all of his tricks and manipulations, as witnessed when he sneaks back home to see Aunt Polly after he has run away. I particularly like his devtion to popular romantic literature, and how he twists things around in his naivete. Then again, some of Tom's personality grates on me. He is an arrogant little boy, and like most children his age, can be heartless. He thoughtlessly breaks the heart of the girl he had wooed before Becky came along, and he is merciless to Sid (who, to be fair, can be a little rat). Perhaps Tom's biggest mark against him, though, is that he is no Huckleberry. Even in this novel, which is centered on Tom, I found Huck the more compelling of the two.Still, Tom is a rogue, and I had a good time reading his adventures. I enjoyed the plot, which was mostly composed of mini episodes in Tom's life, and a longer thread involving Indian Joe and treasure in general. I admire how Twain is nostalgically recreating a past and critiquing it at the same time. Just because he loves aspects of his home does not blind him to its faults; on the contrary, he mines those areas for all their dramatic potential. All in all, this story lacks the depth that Twain is capable of, but is a fun story that is easy to read. I was glad to finally have read this mainstay in our country's literature.
Also in the Sterling Unabridged Classics series | View all