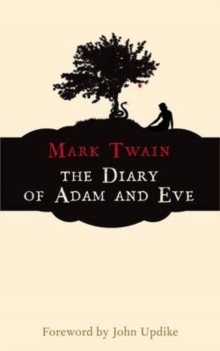 The Diary of Adam and Eve
Paperback
Description
Master storyteller Mark Twain hilariously recreates the very first days, portraying Adam as something of a recluse, and a man who is ill prepared for the arrival of Eve, a talkative, emotional and highly charged female.
Yet, in time, and after many moments of conflict, they begin to learn to live together and come to realise that men and women can, in fact, exist in harmony.
Information
Format: Paperback
Pages: 112 pages
Publisher: Hesperus Press Ltd
Publication Date: 01/07/2002
Category: Classic fiction (pre c 1945)
ISBN: 9781843910053
Free Home Delivery
on all orders
Pick up orders
from local bookshops
Reviews
Showing 1 - 5 of 5 reviews.
Review by komunley
16/06/2015
If you'll allow me a joke, I'm going to suggest that you start reading Twain at the beginning. The very beginning of human existence with Mark Twain's Diaries of Adam and Eve. I want to make it clear that this is not a religious book, not by any means. Nor does it attempt to make fun of religion. Diaries is Mark Twain's take on the story of those first human beings, only that's not entirely correct. Twain borrows the situation of Adam and Eve (that of two people who actually are the only two people on earth), rather than the actual story, to address the various stereotypes of the two sexes, the workings of a relationship, and the effects of aging. The story is told through excerpts of "diary entries" by the main characters, and various other documents and articles left over chronicling their lives. The namesake of the book, the actual diaries of Adam and Eve, make up the first two sections. These diaries tell of the first meeting and subsequent life together of Adam and Eve. Part one recounts the events through the eyes of the practical, unimaginative, scientific Adam. Part two recounts many of those same events through the imaginative, romantic, and emotional eyes of Eve. The fun of these opening sections is in listening to the characters try desperately to understand each other. Adam first wants his space and slowly begins to want to be closer to Eve. Eve, on the other hand, wants desperately to be close to Adam and then later comes to want a little more space (and for Adam to stop experimenting on the baby, whom he assumes to be a strange new mammal that appears much like he and Eve). You might also find it interesting to see how two accounts of the same event can be so vastly different. It is my opinion that these two opening sections are the most entertaining and easily the most hilarious parts in the book (it isn't all hilarity though; the end of Eve's Diary is quite touching). Following the diaries are two pieces from Eve's Autobiography, which Twain wrote a few years after the Adam and Eve's Diaries. Eve's voice is different in these. Instead of the spur of the moment feel of her diaries, these show a slightly more academic Eve commenting on her and Adam's daily life as a family with children and what they are doing to pass their time: experiments, putting together a dictionary, you know, nothing big, right? These sections do not have the raw entertainment value of the diaries but they are, nonetheless, an interesting read to find out how Twain envisioned their daily lives. Besides, they're short. The fifth section of the book is titled "That Day in Eden" and is an entry from Satan's journal. In it he recounts his discussion with Adam and Eve before they ate from the tree of knowledge. Twain's wit comes back into play in this section as the crafty Satan bewilders the pair with ideas of society and fancy talk, slowly turning them on to the idea of seeking greater knowledge while confusing them both completely. Next is another piece by Eve. This section deals with Adam and Eve's first real taste of death – that of their son, Abel. This part is written as though she were thinking or speaking to you as the events unfold and Abel loses his struggle to live. Of course, neither Adam nor Eve knows what death really is, but they have an idea of what it might be. This can be a difficult section to read; the pain in Eve's voice during her final paragraph is palpable, you can feel it. The book ends on a lighter note though. One short story about the ghost of Adam visiting the New York's Museum of Natural History. He is looking at a dinosaur exhibit as the story opens and remarking that neither he nor Eve can remember such a creature (He later hints that this might be due to a mistake by Noah and his ark). The story concerns itself with a discussion he has with another museum-goer who finds it funny that he has only one name, just like "the old original." The book concludes with an account of a man who jokes about erecting a monument to Adam only to see the project adopted by a group of bankers whose only interest in the monument is to draw commerce to the town of Elmira, NY. That might sound like a lot for a book that weighs in at only ninety-three pages long, but it reads fast and that's a good thing. This is the kind of book that you'll end up reading in one sitting. It's also the kind of book that you'll come back to again and again. Though it is under one hundred pages long, Mark Twain imbues The Diaries of Adam and Eve with a lifetime's worth of experiences and emotion. It's a fun trip and one that you'll be glad to have made. But don't get too comfortable yet, there's more time traveling to be done and a Connecticut Yankee around the bend who's getting ready to modernize King Arthur's Court.
Review by HadriantheBlind
16/06/2015
Biting humor. Twain at his most cynical.
Review by cait815
16/06/2015
I doubt that I would have ever come across this story if it hadn't been for Lori's review in December. Thank you Lori! I keep trying to write how much I loved this, but all that comes out is "gush, gush, gush". It was charming, witty, funny as hell, and the ending nearly had me shedding water out of the holes I look with. I deserve a good flogging for never having read Twain before now.
Review by PolymathicMonkey
16/06/2015
This little piece of work was incredibly entertaining, and probably served to change my rather negative view of Twain's writing. I was continuously bursting into laughter while reading it. I do think it maybe went on a bit long, maybe these handful of stories were better left kept published individually, or in a large collection scattered throughout; it seemed to get a little stale by the middle. However, they were all enjoyable and the laughter and insightful nature of some of his observations make this little gem well worth reading.
Review by bicyclewriter
27/01/2016
It has been a while since I read anything by Twain, and I'd forgotten just how delightful it is to read his stuff.<br/><br/>Folks who are pretty hung-up on political correctness will find it disturbing that Twain crafts his Adam and Eve characters around pretty common stereotypes of males and females. I wasn't bothered by this at all, and found it quite interesting that the stereotypes from 150 years ago seem so consistent with our stereotypes from today.<br/><br/>This is a very quick read, but after finishing it, I found myself looking back through it and reading parts of it again. It's full of little diary snippets where each of the pair describes both the Eden they live in, and this other creature that they have been paired and connected with.<br/><br/>I'll be reading some additional Twain for sure, now that my taste for his wonderful wit and wisdom has been whetted again...<br/>
Also in the Hesperus Classics series | View all