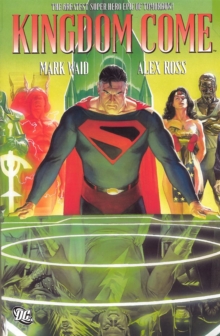 Kingdom Come TP New Edition
Paperback
Description
Written by Mark Waid Art and cover by Alex Ross Eisner Award-winning artist Alex Ross provides an amazing new cover painting for this new edition of KINGDOM COME, which features a deluxe foldout cover only on its first printing! (Subsequent printings will not include the foldout.) Written by Mark Waid and illustrated by Ross, this is the unforgettable, best-selling tale of a world spinning inexorably out of control.
Waid and Ross weave a tale of youth versus experience, tradition versus change, and what defines a hero.
KINGDOM COME is a riveting epic that pits the old guard - Superman, Batman, Wonder Woman and their allies - against a new, uncompromising generation of heroes.
Advance-solicited; on sale September 10 * 232 pg, FC, $17.99 US
Information
Format: Paperback
Pages: 232 pages
Publisher: DC Comics
Publication Date: 24/09/2008
Category: Superheroes
ISBN: 9781401220341
Free Home Delivery
on all orders
Pick up orders
from local bookshops
Reviews
Showing 1 - 4 of 4 reviews.
Review by dschander
16/06/2015
The king of DC's Elseworlds series. The story starts about 10 years after the (then-current) mid-1990s DC landscape, with Superman in self-imposed exile/retirement. Without a leader, the rest of the world's superheroes have mostly dispersed as well, leaving only a new generation of super-powered beings influenced by nothing beyond self interest. But soon Superman is coaxed out of retirement to face a fast-brewing war amongst various human and superhero factions.It's a killer story, both a ripping good "what if" story and an insightful commentary on the state of superhero stories in general. The writing is tight, the art beautiful. I've always loved AU stories for their ability to place characters in unfamiliar territory (be it in time or circumstances) and still make them an perceptive commentary of the one we're used to.Brilliant.
Review by FFortuna
16/06/2015
Kingdom Come is kind of like Watchmen, only with real DC superheroes: Superman, Batman, Wonder Woman, and all the rest. It was published in 1997, is less than half the size of Watchmen, and is absolutely fantastic.The story takes place some time after the classic "metahumans" have retired, and the world is now being overrun by a new breed of superhero. The kind that America asked for, the kind that doesn't have any rules about not killing its enemies. Unfortunately, they also don't care about human collateral damage. The old superheroes come out of retirement to try to set things to right. The story is told in the form of a Christmas Carol-esque journey taken by a pastor and a cloaked spirit who demands that he judge the superheroes and say who will be punished in the end.The characterization is very good. My favorite character is Batman, which comes as no surprise to me. The art is very good too, not drawing attention to itself while being colorful and descriptive. There are a lot of large panels that I really loved looking at.The plot is amazing, really grabs you by the throat and makes you listen to what it's saying... It asks questions like "Why do we fight?" "Why should we?" "Who is a part of the human race, and what does that mean?" I was on the edge of my seat the entire book, desperate to know how it ended, and it certainly delivered on its promise of a grand finale.Reread: It's just as good the second time through, if not better, especially now that I'm more familiar with the minor DC characters that make appearances. One of my favorite graphic novels of all time.
Review by crystalcarroll
16/06/2015
This is one of those graphic novels that believes in its audience. Kingdom Come is subtle. It plays with images and words and ideas.So, here's Superman. A hero with rock solid compassion. An idealist, who deals in trust. He believes people can do better. Operates within the law. Does not kill. It's what he and Batman have in common. That in the end, Bruce Wayne and Clark Kent are people who don't want anyone to die. Even the villains. Makes life harder, but in the end they are who they are. Products of a dead world. Dead parents. They are idealists. This story asks what happens when the world decides that expediency is easier. What happens when the man of tomorrow is treated like yesterday's news.The framing device is a preacher who has lost his faith being taken by a mysterious figure to see the great and powerful. The events that lead to horrible moments.With an incredibly rich cast of comic heroes, it's poignant, Biblically literate, and ultimately hopeful. And damn the artwork is beautiful.
Review by rodhilton
16/06/2015
I thought about the comics that I've enjoyed reading over the years and realized that they were always finite - a specific writer and illustrator with a particular vision for a story, spreading that story out over a specific number of books, and concluding. With that in mind, I decided to check out some of the most well-regarded finite comic series' ever published, and at the top of my list was Kingdom Come.I don't mean to be hyperbolic, but Kingdom Come is the best comic book I've ever read, tied with Watchmen. The story takes place in the future - the Justice League has retired, Superman now tends to his farm, and the world is overrun by metahumans, superpowered individuals who lack the conviction to justice and the appreciation for life that bound Superman, Batman, and the rest of the JLA.The characters are extremely complex and well-written. Superman is in a state of emotional turmoil, unsure of how to handle leading these metahumans. Wonder Woman slowly grows to embrace something akin to fascism. Batman waffles between wanting to help and wanting the situation to resolve itself. Meanwhile, Lex Luthor has teamed up with Catwoman and The Riddler (as well as others) to take advantage of the situation for his own political ends.These are the same superheroes you're familiar with, but expressed with a level of depth I've never seen in comics before. The story is epic in every sense of the word, and the art by Alex Ross is breathtaking.Nearly everything about Kingdom Come is phenomenal, and the finite run ensures that the entire story feels like it's going somewhere at all times. If you like comic books but have never read Kingdom Come, I cannot recommend it highly enough.