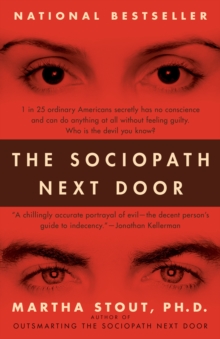 The Sociopath Next Door : The Ruthless versus the Rest of Us
Paperback
Information
Format: Paperback
Pages: 256 pages
Publisher: Broadway Books (A Division of Bantam Doubleday Del
Publication Date: 11/02/2006
Category: Popular psychology
ISBN: 9780767915823
Free Home Delivery
on all orders
Pick up orders
from local bookshops
Reviews
Showing 1 - 5 of 26 reviews.
Previous | Next
Review by talk0underworld
16/06/2015
This was a huge disappointment. It's not very informative and is mostly a vehicle for Dr. Stout's personal views on everything from sociopaths being undeserving of pity to the endorsement of Richard Dawkins and his theories. The "case studies" are vague at best and there is very little depth to most of her opinions on them. The writer's voice comes through as subtly patronizing. Overall, a waste of time.
Review by meggyweg
16/06/2015
This is a very good how-to guide to recognizing and dealing with sociopaths. Suitable for the ordinary person, and it takes care to emphasize that most sociopaths are necessarily violent or even criminal, just garden-variety turds. I would recommend it to anyone who's in a bad relationship with someone who may be a sociopath.
Review by bordercollie
16/06/2015
An informative stroll through the contrasting worlds of psychopathy and of conscience. The author gives the Rule of Three for dealings with anyone (1 lie or failure to follow through can be a misunderstanding; 2 can be a warning; 3 is a clue to end the relationship), and a sure way to detect a sociopath: anyone who tries to make you feel pity for them. Since psychopaths are 4% of the population of the western world, this is handy advice.
Review by fastawker
16/06/2015
I picked up this book simply because of everything you see on the news these days. I wanted to read about what would push someone to do some of the things we see. After getting into the book I was really surprised to realize that sociopaths are not all criminals and evil-looking. They look like everyone else and most of the time are not confronted about their actions. It's scary to think that 4% of the population do not have any conscience. This was a great read and I would recommend it to anyone seeking info on this topic
Review by Darcia
16/06/2015
This book is well-written, in simple language that anyone can understand. (Unlike many books written by psychologists.) Martha Stout uses stories from her own psychology practice and experiences to illustrate the various ways a sociopath operates within the world. I found the information extremely interesting. Stout gives us great insight into human nature.