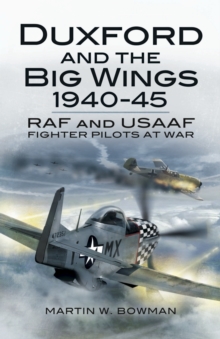 Duxford and the Big Wings 1940-45 : RAF and USAAF Fighter Pilots at War
Hardback
Description
A pulsating account of the young RAF and American fighter boys who flew Spitfires, Hurricanes, Thunderbolts and Mustangs during 1940-45.
It is unique in that the story is told using first person accounts from RAF, German and American 'Eagles' who fought in the skies over England in the Battle of Britain in the summer of 1940 and the great air offensives over occupied-Europe from 1942 onwards.
The first five and a half chapters cover the Battle of Britain period when the RAF squadrons fought dog fights with the Luftwaffe and then fought them in gathering strength using the 'Big Wings to meet the bomber fleets attacking London.
The second part of the book covers the Eagle squadron period, which was expanded with America's entry into the war.
The action moves to the USAAF 'Big Wings' of Thunderbolts and Mustang fighters that flew escort missions and duelled with the Luftwaffe over the continent during the massive bomber raids on German targets in France, the Low Countries and the Reich itself.
A whole host of incredible first hand accounts by British, Polish, Czech, German and American fighter pilots permeate the action and describe the aerial battles as only they can. This unique book also includes many accounts and photos that have not previously been seen before while the rich mix of combat accounts from all sides are brought together for the first time in one volume.Britain's largest 2 day air show is held at Duxford with many booksellersThe Official USAAF War Memorial is situated at Duxford and attracts many US visitors - plus big American sales potential
Information
Format: Hardback
Pages: 304 pages, 60 mono in plates
Publisher: Pen & Sword Books Ltd
Publication Date: 20/08/2009
Category: European history
ISBN: 9781848840249
Free Home Delivery
on all orders
Pick up orders
from local bookshops