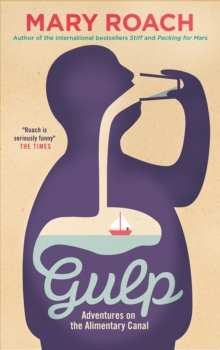 Gulp : Adventures on the Alimentary Canal
Paperback
Description
Eating is the most pleasurable, gross, necessary, unspeakable biological process we undertake.
But very few of us realise what strange wet miracles of science operate inside us after every meal - let alone have pondered the results (of the research).
How have physicists made crisps crispier? What do laundry detergent and saliva have in common?
Was self-styled 'nutritional economist' Horace Fletcher right to persuade millions of people that chewing a bite of shallot seven hundred times would yield double the vitamins?
In her trademark, laugh-out-loud style, Mary Roach breaks bread with spit connoisseurs, beer and pet-food tasters, stomach slugs, potato crisp engineers, enema exorcists, rectum-examining prison guards, competitive hot dog eaters, Elvis' doctor, and many more as she investigates the beginning, and the end, of our food.
Information
Format: Paperback
Pages: 352 pages, 18 black & white illustrations
Publisher: Oneworld Publications
Publication Date: 01/04/2013
Category: Physiology
ISBN: 9781851689934
Other Formats
Paperback from £7.45
Hardback from £18.15
Free Home Delivery
on all orders
Pick up orders
from local bookshops
Reviews
Showing 1 - 3 of 3 reviews.
Review by brochettes
16/06/2015
As someone who reads mostly for entertainment and to escape the pressures of real life, but who doesn't mind learning something in the process, this book struck the right balance between fun and enlightening. I already knew from previous books that I enjoy Mary Roach's writing style and gleeful footnotes; and the subject matter was also one that interested me greatly, so it's unsurprising that I loved this. The cackle-out-loud moments were nicely balanced by "oh-how-interesting-never-really-considered-this" moments across a broad range of digestion- related subjects. I also feel that in some of her past books, Mary's observations of her scientist researchers could, while entertaining, be a little on the mean side, and I feel she has dialled this down a little in this book, which makes me feel less guilty at laughing at the researcher's names. All in all a really interesting and enjoyable read that manages to remain understandable to the lay person without getting the feeling of dumbing down or being patronised.
Review by clfisha
16/06/2015
Fab popular science. A hugely fascinating and highly entertaining look at our digestive system. Roach's skill is managing to ferret outthose interesting facts and explain simply so a layman can understand. She has a deep love of science and oddity,and manages to find and bring to life the hidden eccentricsSo we learn about extreme chewing fads, creepy historical experiments on stomach acid, the real myth behind the fire breathing dragon, what really happens to drug smugglers and the amazing amount of research that goes into food science.<i> "I don't want you to say, 'This is gross,' " she writes. "I want you to say, 'I thought this would be gross,but it's really interesting.' </i>and it really is, I really wish biology was this much fun at school.I have seen her style irritate the more serious expert or those that like a less eclectic magpie mix and morein-depth look but for everyone else no problem. My only problem is I don't care what scientists wear and also that takes a while to really grip, becoming increasingly interesting as it goes on down the canal.If you haven't read Roach before start with Stiff but this I think is one her better books. Highly recommended
Review by SChant
16/06/2015
Mary Roach - as usual, funny, informative and occasionally gross. I enjoyed it immensely.