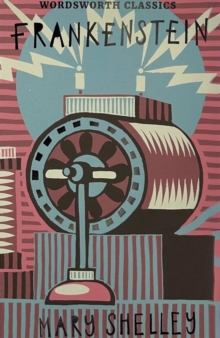 Description
Frankenstein is the classic gothic horror novel which has thrilled and engrossed readers for two centuries.
Written by Mary Shelley, it is a story which she intended would `curdle the blood and quicken the beatings of the heart.' The tale is a superb blend of science fiction, mystery and thriller.
Victor Frankenstein driven by the mad dream of creating his own creature, experiments with alchemy and science to build a monster stitched together from dead remains.
Once the creature becomes a living breathing articulate entity, it turns on its maker and the novel darkens into tragedy.
The reader is very quickly swept along by the force of the elegant prose, the grotesque, surreal imagery, and the multi-layered themes in the novel.
Although first published in 1818, Shelley's masterpiece still maintains a strong grip on the imagination and has been the inspiration for numerous horror movies, television and stage adaptations.
Information
Format: Paperback
Pages: 208 pages
Publisher: Wordsworth Editions Ltd
Publication Date: 05/05/1992
Category: Classic horror & ghost stories
ISBN: 9781853260230
Other Formats
EPUB from £5.99
Paperback from £2.50
Hardback from £4.69
Paperback / softback from £5.20
Other book format from £12.45
Mixed media product from £10.42
eAudiobook MP3 from £7.20
Free Home Delivery
on all orders
Pick up orders
from local bookshops
Reviews
Showing 1 - 5 of 12 reviews.
Previous | Next
Review by DireWeevil
16/06/2015
This is one of the better horror novels written, although I would not really classifiy it as a horror novel. The storyline is more tragic and romantic than it is horrific. The Frankenstein Monster is not the unholy drone that the movies make him out to be, instead Shelly presents a far more philosophic and sympathetic creature than Hollywood ever created. This is a great read and one every student who if forced to do so should not shudder, but embrace this epic tale.
Review by john257hopper
16/06/2015
This is primarily a novel that sets out to create an atmosphere of fear, horror and despair and succeeds admirably in so doing. Mary Shelley must have had an appalling dream but she brought it to life in wonderful, evocative language and at such a young age (only 19 when she wrote the book). The monster is so different from the monster of the films. Here he is no lumbering, stupid brute, but an agile, resourceful and calculating creature who can and does conduct a deep and thoughtful dialogue with his creator when explaining his background story. But at the same time the monster carries out horrible murders of Frankenstein's nearest and dearest and these deaths are shocking when they happen. The science is almost non-existent and we never find out how Frankenstein creates the monster nor indeed what the monster really looks like other than being repulsively hideous. But that is not the purpose of the book, which is to set a mood and raise philosophical questions about the purpose of scientific discovery. And Mary Shelley does this brilliantly.
Review by mzzkitee
16/06/2015
I thought this book was decent but I don't think it should be classified as a horror classic.
Review by Abi78
16/06/2015
It was interesting to finally get round to reading such a famous, important book and to compare the real thing with my perception of it. Frankenstein is a good and not aprticularly challenging read. It pulled me along in that I knew more or less what would happen (the clues are given to the reader) but I had a morbid desire to read on and have my fears confirmed. The science makes no sense at al when considered through modern eyes but Shelley was writing at a time when a great interest was taken in discovering the 'life force', and trying to identify what it is that first gives life. The author's preface is espcially illuminating on this point (note the reference to Erasmus Darwin). I wouldn't worry to much about all that though. The lessons of the story are plain. Don't just go persuing your intellectual desires and satisfying your scientific curiosity without being wary of the consequences of what you do. Also, the monster is initially friendly and good natured but he is turned nasty because he is lonely and all humans, including his maker, are revolted by and hostile to him. A thought provoking and interesting tale. I shall probably re-read some day.
Review by lunaverse
16/06/2015
This classic novel has a number of flaws that appeared in many novels back before we refined the art of exciting storytelling to a science. We take several chapters before we even meet Victor Frankenstein, and there is a lot of backstory told that isn't really needed. However, between the unnecessary exposition, there are many exciting and profound, and even emotional moments. Shelly went much further into character development than what I was expecting from what little I knew about the story - I knew the monster is misunderstood, but was not expecting the depth that is offered. The roots of modern sci-fi are found in books like this, and this should be considered a sci-fi classic. I also noticed hints of language and style that reminded me a lot of H.P. Lovecraft, particularly the descriptions of madness and angst, and themes of delving too far. Could it be that Lovecraft was heavily inspired by this novel? Possibly. A great book that should be part of anyone's repertoire if you wish to be functionally knowledgeable about literature and science-fiction.
Also in the Wordsworth Classics series | View all