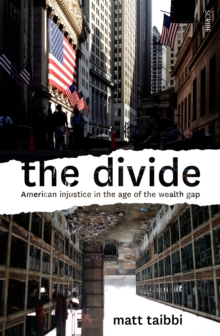 The Divide : American injustice in the age of the wealth gap
Paperback / softback
Description
In The Divide, Matt Taibbi - the scourge of America's financial plutocrats - takes on his most important story yet.
Written with forensic zeal and righteous rage, this is an exploration of an unprecedented wealth gap that is not just changing the US's economic life, but transforming the meaning of rights, justice, and basic citizenship.
The wealthy 1 per cent operate with near impunity, protected by their class, their peers, and their system; however large and outrageous their crimes, they are hardly ever charged and rarely jailed.
Meanwhile, everyone else finds their daily existence the subject of massive law-enforcement attention - from stop-and-frisk programs and the immigrant dragnet, to invasive surveillance and the abuse of debtors.
Driven by immersive reporting, this is a stunning, enraging revelation of the newest high-stakes divide in the US: between a lawless aristocracy of hyperwealth and everyone else, living under the shadow of an incipient American police state.
Information
Format:Paperback / softback
Pages:448 pages
Publisher:Scribe Publications
Publication Date:05/06/2014
Category:
ISBN:9781922247469