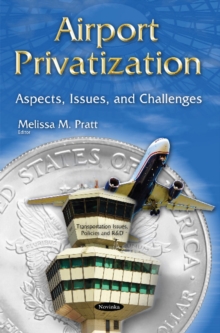 Airport Privatization : Aspects, Issues & Challenges
Paperback / softback
Description
Almost all commercial service airports in the United States are owned by local and state governments, or by public entities such as airport authorities or multipurpose port authorities.
In 1996, Congress established the Airport Privatization Pilot Program (APPP) to explore the prospect of privatising publicly owned airports and using private capital to improve and develop them.
In addition to reducing demand for government funds, privatisation has been promoted as a way to make airports more efficient and financially viable.
Privatisation refers to the shifting of governmental functions, responsibilities, and sometimes ownership, in whole or in part, to the private sector.
With respect to airports, "privatisation" can take many forms up to and including the transfer of an entire airport to private operation and/or ownership.
This book examines the issues and options for Congress with airport privatisation.
It describes the experience with the APPP; examines the challenges airport owners and investors face to full airport privatisation; describes the potential effects of airport privatisation; and, discusses reasons why airport privatisation is more prevalent outside of the U.S. and stakeholder views on the APPP.
Information
Format: Paperback / softback
Pages: 73 pages
Publisher: Nova Science Publishers Inc
Publication Date: 01/06/2015
Category: Airports
ISBN: 9781634825559