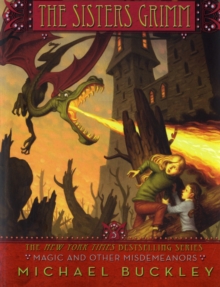 The Sisters Grimm : Magic and Other Misdemeanors Bk.5
Paperback
Description
With Granny distracted by Mayor Heart's campaign against the human residents of Ferryport Landing, Sabrina and Daphne Grimm are ready to tackle a case on their own: who is stealing the magical possessions of the most powerful Everafters in town?
Among the many suspects are Puss in Boots (now an exterminator), Cinderella (a radio relationship counsellor), Sleeping Beauty (owner of a coffee shop) and their old enemy, Prince Charming.
One thing is for certain, the villain's plans mean a grim future for the Grimms.
Free Home Delivery
on all orders
Pick up orders
from local bookshops
Reviews
Showing 1 - 5 of 5 reviews.
Review by snapplechick
16/06/2015
This was another great book in the The Sisters Grimm. I can't wait for the next book in the series!
Review by deepikasd
16/06/2015
The Grimm family is all back together at Ferryport Landing. The girls are finally being trained as fairy-detectives after Sabrina in the last book admitted that she did want to stay in the family business. And they are also taking things into their own hands by inviting princesses and others who were placed under spells to help figure out a way to wake up Henry and Veronica Grimm. But true help comes from an unexpected place.<br>But before they learn the secret/loophole, the girls are whisked away to find the truth about who exactly is stealing from the witches. By combining the magical items that are being stolen, strange effects are happening, including people and creatures coming and going from the past and future. And what will the girls do when they are pulled into the future and see their friends and themselves?<br>Meanwhile, Granny Grimm fights to keep her home. Mayor Heart wants to run out all the humans from Ferryport Landing; therefore, she has given them all a ridiculous tax on their houses, forcing them to leave. Somehow Granny manages to put together the fee, but after she pays it, Nottingham ups the fee.<br>In this book, the girls must face themselves and their destinies. They must fight to change the future. But most of all, they must somehow find away to stay at Ferryport Landing by solving a mystery that they may never solve.
Review by soraki
16/06/2015
In this newest Sisters Grimm mystery, magical artifacts are stolen from Everafters. But before Sabrina and Daphne can track down the culprit, they are sucked into a time portal and dumped fifteen years into the future. The future is a grim place; the Master and the Scarlet Hand have taken over the world. Sabrina and Daphne have to find a way back to their own time and prevent this future from coming true.
Review by carolvanbrocklin
16/06/2015
Least favorite so far...lots of skipping around and time travel and such. I got lost and I thnk most of our kids did also since that is the last one many of them read.....
Review by SRaval
16/06/2015
I loved the suspense and adventure that was put into this book from past to present and present to the future. I can't wait to finish the series and find out if the Grimm sisters can stop the scarlet hand from taking over the world and a way to get their parents back awake.