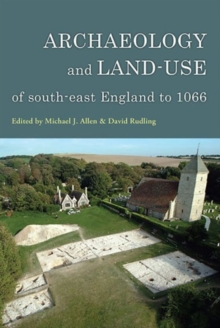 Archaeology and Land-use of south-east England to 1066 : A Tribute to Peter Drewett
Hardback
Description
In this new authoritative textbook on the archaeology of South-East England intended for students, researchers, and those working in commercial archaeology, over 30 leading authors provide a comprehensive overview of the South-East as an informed narrative and interpretation of the prehistory and history of the region.
Chronological chapters tell the story of the development of the South-East by period from the Palaeolithic to the Norman Conquest.
Others focus on either specific areas within the region, or aspects of material culture and the economy.
This is the first book to look at the region as a whole for a generation and since the advent of developer-funded archaeology, and it will have an important place in the archaeology of the South-East.
It is offered in memory of Sussex Archaeologist Peter Drewett.
Information
Format: Hardback
Pages: 336 pages, b/w and colour illustrations
Publisher: Oxbow Books
Publication Date: 31/12/2019
Category: Archaeology by period / region
ISBN: 9781782979623