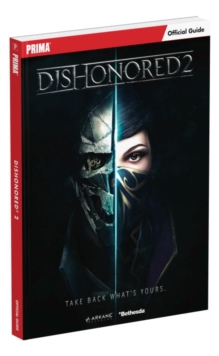 Description
Reprise your role as a supernatural assassin in Dishonored 2, the next chapter in the award-winning Dishonored saga by Arkane Studios.
Play your way in a world where mysticism and industry collide.Complete Walkthrough: Coverage of the entire game, detailing strategy for stealthy and brutal playthroughs- sneak across the rooftops or fight through the city streets!
Full Coverage of Weapons & Powers: Learn about advanced bonecharm crafting and the all-new upgrade trees.
Discover strategies for customizing your powers and how to best use your set of powers, gadgets, and weapons to accomplish your objectives.Detailed Maps: Confidently navigate the rat-infested streets of Dunwall and the exotic coasts of a decaying Karnaca.
Find every mission objective, important location, and more.Hidden & Collectible Items Revealed: Find every collectible and hidden item in the game!Free Mobile-Friendly eGuide: Includes a code to access the eGuide, a web-access version of the complete guide optimized for a second-screen experience.
Free Home Delivery
on all orders
Pick up orders
from local bookshops