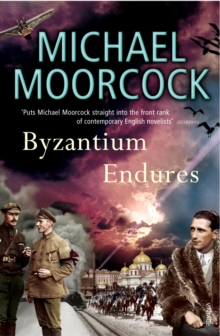 Byzantium Endures
Paperback
Description
Byzantium Endures, the first of the Pyat Quartet, introduces one of Michael Moorcock's most magnificent creations - Maxim Arturovitch Pyatnitski.
Born in Kiev on the cusp of the twentieth century, he discovers the pleasures of sex and cocaine and glimpses a sophisticated world beyond his horizons before the storm of the October Revolution breaks.
Still a student at St Petersburg, he is deflected into more immediate concerns, caught up in the rip-tide of history.
Information
Format: Paperback
Pages: 416 pages
Publisher: Vintage Publishing
Publication Date: 05/01/2006
ISBN: 9780099485094
Free Home Delivery
on all orders
Pick up orders
from local bookshops
Reviews
Showing 1 - 2 of 2 reviews.
Review by stevencudahy
16/06/2015
Despite featuring one of the most offensive narrators in modern fiction, this is a wonderful read. Moorcock has an incredible command of language and he gives it full rein here. The places, people, and events pop and shimmer with incredible power and you feel constantly present, involved, drawn into the chaos and mayhem of Pyat's world.Akin to works like Lermontov's 'A Hero Of Our Times' and Ishiguro's 'The Remains of the Day' in its exquisite use of an unreliable narrator, and vying with Dickens at his best in terms of the sharp social criticism and satire, this is a fascinating look at a young Russian coming of age during the early years of the twentieth century. The work culminates during 1917, the Russian revolution, and Pyat's inability to fit in with Bolsheviks, Cossacks, or White Russians is simultaneously disturbing and hilarious. The overblown pomposity of Pyat, his obsession with God, science, and above all himself, make him the perfect foil for examining the early years of the twentieth century. Moorcock has always been a genius, even from his early fantasy and science fiction. The Jerry Cornelius works are as important a literary experiment as anything devised during the twentieth century, and Mother London stands as one of the finest novels about England's capital city ever written. In the Pyat Quartet Moorcock has allowed himself free reign to examine the horrors of anti-semitism, culminating in the Holocaust. But there is far more to this work than a simple examination of the evils that men do. Fashion, politics, drugs, sex, war, and much more make up the tapestry of this work, but fundamentally Moorcock has written a tale that takes as its central theme the manifold ways in which people degrade and destroy other people for being too different, and sometimes (and perhaps most importantly) for being too similar. That he has managed to maintain so much humanity and joy in his fictional world is a testament to his power as one of the leading voices in world fiction.
Review by ascapola
16/06/2015
The first part of Moorcock's Pyat quartet, Byzantium Endures is Pyatnitski's life story from being a boy to the age of 20. A character obsessed about religion, and his own self-worth, he has to duck and dive to survive in the maelstrom of WW1 and the Russian Civil War.