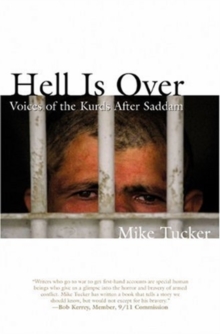 Hell Is Over : Voices of the Kurds After Saddam
Undefined
Description
Finalist for the 2005 Ben Franklin Awards "Writers who go to war to get firsthand accounts are special human beings who give us a glimpse into the horror and bravery of armed conflict.
Mike Tucker has written a book that tells a story we should know, but would not except for his bravery.""--"Bob Kerrey, member, 9/11 Commission "In presenting these interviews in their entirety, Tucker has gotten out of the way of the victims and produced one of the most moving accounts about the terrors of pre-war Iraq.
If the daily news out of Iraq has numbed you to the struggle, pick up a copy of Hell is Over for a dose of moral clarity and an unflinching look at the monstrous enemy we face in this clash of civilizations."--www.frontpagemag.com Long oppressed and cruelly treated, the Kurds are the world's largest ethnic group without its own nation.
Kurds, who today live in a mountainous area that extends over Iran, Iraq, Turkey, and Syria, are a fiercely proud and culturally rich people whose history is indelibly marred by political machinations and betrayal.
Saddam Hussein and his Ba'athist party have brutally oppressed the Kurds of northern Iraq; his systematic attempts to annihilate them included the gassing of entire Kurdish villages, torture, imprisonment, rape, and bombings.
Justification for the 2003 invasion of Iraq will likely be subject to worldwide debate for years, but one fact remains clear: The war had a moral component--to liberate millions from Saddam's totalitarian rule.
For the Kurds, there is no ambivalence: The war brought them one step closer to freedom.
Hell Is Over offers frank and evocative accounts of the Kurdish people, from veterans of the Kurdishuprising, the revolution of 1961, to members of the peshmerga who helped U.S. forces quickly take key northern cities in 2003. Hell Is Over is a testimony to the anguish of political prisoners, survivors of chemical attacks, and victims of torture.
Mike Tucker also offers readers the unbridled joy and optimism of Kurdish artists, poets, and old warriors. "Hell Is Over" is the moving narrative of a long-suffering nation, chillingly told one precious individual at a time.
Information
Format:Undefined
Pages:208 pages
Publisher:Rowman & Littlefield
Publication Date:01/04/2006
Category:
ISBN:9781592288854