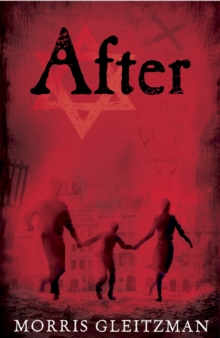 Description
After is the fourth shocking, funny and heartbreaking book in Morris Gleitzman's Second World War series.After The Nazis took my parents I was scaredAfterThey killed my best friend I was angryAfterThey ruined my thirteenth birthday I was determined to get to the forest, to join forces with Gabriek and Yuli, to be a family, to defeat the Nazis after all'Haunting . . . dangerous and desperate, but also full of courage and hope' - Guardian'You will laugh . . . prepare for shock and tears' - Sunday TimesAfter is the fourth in a series of children's novels about Felix, a Jewish orphan caught in the middle of the Holocaust, from Australian author Morris Gleitzman - author of Bumface and Two Weeks with the Queen.
The other books in the series, Once, Then and Now are also available from Puffin.
Information
Format: Paperback
Pages: 224 pages
Publisher: Penguin Books Ltd
Publication Date: 01/08/2012
Category: General
ISBN: 9780141343136
Free Home Delivery
on all orders
Pick up orders
from local bookshops
Reviews
Showing 1 - 3 of 3 reviews.
Review by lilibrarian
16/06/2015
The last book in Felix's story, this takes place immediately after Then. After hiding on a farm for 2 years, Felix joins the partisans and takes part in actions as the Nazis are defeated and leave Poland.
Review by rata
16/06/2015
I wish this book was written at the same time as Once & Then, Because i had read Once & Then & Now 3 years ago i found that i did quite get into the book 'After' straight away. After follows straight after Then and makes numerous references to Zelda (killed by the nazis in Then) and i kept confusing this Zelda with Felix's grand daughter Zelda in 'Now'. After goes back to when Felix is a young boy (about 13) and he is being sheltered by Gabriek (Polish) who is a partisan. The book retells of the Partisan influence against the Germans and how they helped many Jewish people. Gabriek's farm is burned down by retreating German troops and he is badly injured. Felix loads Gabriek onto teh draught horse Dom's back and go in search of the Partisan group who are camped in the forest. Gabriek's injuries are so bad that he is sent to the main camp and Felix is saddened that he has to stay behind and become the doctor's assistant. He is befriended and somewhat mothered by Yuli who protects him. The story continues where Yuli and Felix go on a mission to secured more food for the group and upon there return they witness the partisan group being counter attacked by Germans and killed. Yuli tells Felix to stay still as she goes to attack the soldiers. After the affray has cleared, Felix goes to investigate and believes Yuli to be dead. Felix returns to the town centre and befriends a group of children (Polish Jews and Germans) and together they hide in a swamp and look after each other. An end to war is declared, Yuli reappears and directs the Russian soldiers to take Felix to the concentration camp where Felix's parents were sent. Here Felix finds out his father is dead, but his mother is barely alive. They get to reunite just before she passes away. Felix stays at the camp to assist the doctor in caring for the Jewish prisoners. The story ends in a climax with Gabriek finding Felix at the camp and they journey to gether retracing their path. At the partisan camp they come across Szulk ( a nazi supporter)who attacks Gabriek. While defending Gabriek, Felix stabs Szulk and just as he is about to kill him, Felix has second thoughts and saves his life. Felix then proceeds to doctor up Szulk's injuries and then he and Gabriek walk off into the distance.
Review by SparklePonies
16/06/2015
This part of Felix's story deals with the Partisans and being close to the fighting during WWII. Some of the events and scenarios are disturbing, but no doubt very accurate. Anyone interested in pursuing the history of the Jews during the Holocaust will appreciate this book. I feel this is Morris Gleitzman's best book of the series.
Also in the Once/Now/Then/After series | View all