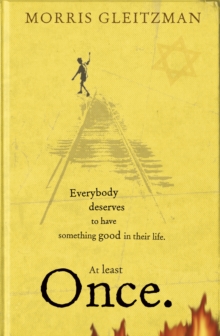 Description
Once by Morris Gleitzman is the story of a young Jewish boy who is determined to escape the orphanage he lives in to save his Jewish parents from the Nazis in the occupied Poland of the Second World War.
Everybody deserves to have something good in their life.
At least Once.Once I escaped from am orphanage to find Mum and Dad.Once I saved a girl called Zelda from a burning house.Once I made a Nazi with a toothache laugh.My name is Felix.
This is my story.Once is the first in a series of children's novels about Felix, a Jewish orphan caught in the middle of the Holocaust, from Australian author Morris Gleitzman - author of Bumface and Boy Overboard.
The next books in the series Then, Now and After are also available from Puffin.
Information
Format: Paperback
Pages: 160 pages
Publisher: Penguin Books Ltd
Publication Date: 01/02/2006
Category: Historical
ISBN: 9780141320632
Other Formats
Paperback from £7.59
Hardback from £10.00
EPUB from £5.99
Free Home Delivery
on all orders
Pick up orders
from local bookshops
Reviews
Showing 1 - 5 of 7 reviews.
Previous | Next
Review by shell70
16/06/2015
Oh my gosh! This story is so powerful. You will be so moved that you will forget that you are reading this horrifying story but living it! Felix and Zelda's journey will never leave you even after the last page has been read.
Review by janjan1
16/06/2015
An excellent portrayal of the brutality of the Holocaust told through the innocent eyes of a 9 year old Polish boy who gradually understands the reality of the fate of his missing parents. Two more books will finish the series - Now and Then.
Review by jubilant_joy
16/06/2015
I read this book to my fifth grade students when they are learning about the Holocaust. It is an amazing story of a young Polish boy named Felix who understands nothing about what is happening in his country. As the story unfolds, numerous incidents that he assumes are accidents or mistakes gradually help him understand Hitler and the Nazis for what they truly are. His innocence is heartbreaking and helps helps develop a deeper understanding of the Holocaust through a child's eyes. Although honest, Once is appropriate for older elementary students while still being engaging to adults. I cannot recommend it highly enough.
Review by CaroTheLibrarian
16/06/2015
PLUS - * A powerful, tragic holocaust story narrated by a Jewish Polish boy. * I loved the way in which the story is told - Felix has been protected much of what has been happening in Poland by his parent's who managed to put him in a Catholic orphanage. When he leaves to go in search of his parents a realisation of the horrors people have been through gradually dawns on him. This means that young readers work out the truth along with Felix. * There are lots of parts to make the reader smile - the friendship between Felix and Zelda, and the stories that Felix tells - so it's not a depressing story. It is very emotional though.MINUS - * Readers probably need to know a certain amount of information about the Holocaust to fully understand what is going on, but there are notes at the end of the book. OVERALL - * It's emotionally charged but so well written. As ever, Morris Gleitzman manages to deal with hard hitting subjects with humour and sensitivity.
Review by jiona
16/06/2015
A story set during the second world war, the narrator being a young Jewish boy who runs away from an orphanage to find his parents.Told in the first person, Gleitzman captures the brutality, violence and tragedy through innocent eyes. In this way, the novel provides a nice counter-point to Boyne's 'The Boy in the Striped Pyjamas', telling the story of this time from a mirror perspective.I thought the book was higly effective, dealing with incidents sensitively, without condescension but through an authentic narrative voice.Great story worth the read, and I look forward to reading the next in the trilogy.