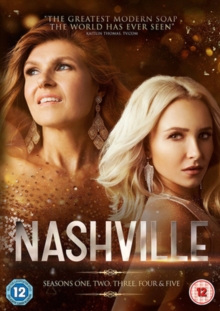 Nashville: Complete Seasons 1-5
DVD
Description
All the episodes from the first five seasons of the American TV drama that delves into the lives of the stars who live in the capital of country music.
With sales plummeting and her star beginning to fade, country music singer Rayna Jaymes (Connie Britton)'s record label proposes that she tries opening for hot, up-and-coming talent Juliette Barnes (Hayden Panettiere).
Season 1 episodes are: 'Pilot', 'I Can't Help It (If I'm Still in Love With You)', 'Someday You'll Call My Name', 'We Live in Two Different Worlds', 'Move It On Over', 'You're Gonna Change (Or I'm Gonna Leave)', 'Lovesick Blues', 'Where He Leads Me', 'Be Careful of the Stones You Throw', 'I'm Sorry for You, My Friend', 'You Win Again', 'I've Been Down That Road Before', 'There'll Be No Teardrops Tonight', 'Dear Brother', 'When You're Tired of Breaking Other Hearts', 'I Saw the Light', 'My Heart Would Know', 'Take These Chains from My Heart', 'Why Don't You Love Me', 'A Picture from Life's Other Side' and 'I'll Never Get Out of This World Alive'.
Season 2 episodes are: 'I Fall to Pieces', 'Never No More', 'I Don't Wanna Talk About It Now', 'You're No Angel Yourself', 'Don't Open That Door', 'It Must Be You', 'She's Got You', 'Hanky Panky Woman', 'I'm Tired of Pretending', 'Tomorrow Never Comes', 'I'll Keep Climbing', 'Just for What I Am', 'It's All Wrong, But It's All Right', 'Too Far Gone', 'They Don't Make 'Em Like My Daddy Anymore', 'Guilty Street', 'We've Got Things to Do', 'Your Wild Life's Gonna Get You Down', 'Crazy', 'Your Good Girl's Gonna Go Bad', 'All Or Nothing With Me' and 'On the Other Hand'.
Season 3 episodes are: 'That's Me Without You', 'How Far Down Can I Go', 'I Can't Get Over You to Save My Life', 'I Feel Sorry for Me', 'Road Happy', 'Nobody Said It Was Going to Be Easy', 'I'm Coming Home to You', 'You're Lookin' at Country', 'Two Sides to Every Story', 'First to Have a Second Chance', 'I'm Not That Good at Goodbye', 'I've Got Reasons to Hate You', 'I'm Lost Between Right and Wrong', 'Somebody Pick Up My Pieces', 'That's the Way Love Goes', 'I Can't Keep Away from You', 'This Just Ain't a Good Day for Leavin'', 'Nobody Knows But Me', 'The Storm Has Just Begun', 'Time Changes Things', 'Is the Better Part Over' and 'Before You Go Make Sure You Know'.
Season 4 episodes are: 'Can't Let Go', ''Til the Pain Outwears the Shame', 'How Can I Help You Say Goodbye', 'The Slender Threads That Bind Us Here', 'Stop the World (And Let Me Off)', 'Please Help Me, I'm Fallin'', 'Can't Get Used to Losing You', 'Unguarded Moments', 'Three's a Crowd', 'We've Got Nothing But Love to Prove', 'Forever and for Always', 'How Does It Feel to Be Free', 'If I Could Do It All Again', 'What I Cannot Change', 'When There's a Fire in Your Heart', 'Didn't Expect It to Go Down This Way', 'Baby Come Home', 'The Trouble With the Truth', 'After You've Gone', 'It's Sure Gonna Hurt' and 'Maybe You'll Appreciate Me Someday'.
Season 5 episodes are: 'The Wayfaring Stranger', 'Back in Baby's Arms', 'Let's Put It Back Together Again', 'Leap of Faith', 'Love Hurts', 'A Little Bit Stronger', 'Hurricane', 'Stand Beside Me', 'If Tomorrow Never Comes', 'I'll Fly Away', 'Fire and Rain', 'Back in the Saddle Again', ''Til I Can Make It On My Own', '(Now and Then There's) a Fool Such As I', 'A Change Would Do You Good', 'Not Ready to Make Nice', 'Ghost in the House', 'The Night Before (Life Goes On)', 'You Can't Lose Me', 'Speed Trap Town', 'Farther On' and 'Reasons to Quit'.
Information
Format: DVD
Region: 2
Certification: (12)
EAN: 5055761910773
Catalogue number: LID95533
Studio: Lionsgate UK
Release date: 09/10/2017
Genre: Drama
Colour: Colour
Free Home Delivery
on all orders
Pick up orders
from local bookshops