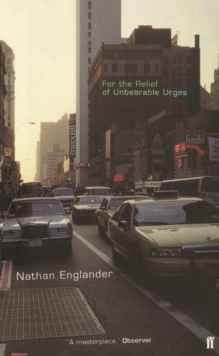 For the Relief of Unbearable Urges
Paperback
Description
Nathan Englander's first work of fiction, published when he was in his late twenties, landed him firmly in the company of Bellow, Malamud, Singer and Roth, with ten delightfully irreverent stories rooted in the weight of Jewish history and the customs of orthodox life.
For the Relief of Unbearable Urges is bold, funny and irresistibly inventive, a brilliant tragi-comic vision delivered in a voice that is as humorous and full of life as it is sorrowful and haunted - a work of stunning authority and imagination.
In 'The Twenty-Seventh Man' a clerical error brings earnest, unpublished Pinchas into the company of writers slated for execution at the order of Stalin; in 'The Tumblers' a group of Jews fated for Auschwitz improvise an escape by blending into a troop of acrobats and teaching themselves to tumble; in the title story, a married Hasidic man incensed by his wife's interminable menstrual cycle gets a dispensation from a rabbi to see a prostitute, 'for the reliefof unbearable urges'.
Englander's stories are wise and compassionate, at once outrageous and wrenchingly sad.
Information
Format: Paperback
Pages: 224 pages
Publisher: Faber & Faber
Publication Date: 08/05/2000
ISBN: 9780571201310
Free Home Delivery
on all orders
Pick up orders
from local bookshops
Reviews
Showing 1 - 1 of 1 reviews.
Review by edwinbcn
16/06/2015
For the relief of unbearable urges is a collection of nine short stories, which are all very well-written, but a trifle boring. Placing the author on an equal footing as Philip Roth or Saul Bellow is really rather premature.Jewish people are not by definition more interesting than other people. A short story must be infused with some inspiration. It is here where Englander's stories are wanting.The first two stories are excellent. They are recognizable, very well-written, and deal with some of the major themes in the literature of Jewish writers on the Twentieth century. The first story in the collection "The Twenty-seventh Man" is reminiscent of Kafka, descrbing the fate of Jewish intellectuals under Stalin, while the second story, "The Tumblers" deals with the holocaust. Both stories are original, and immediately accessible. To some extent that is also true of the title story (number eight in the collection), "For the Relief of Unbearable Urges", which end with on a "funny" note. The other stories miss the characteristic accessibility through familiarity with the stories as belonging to the genre of Jewish (-American) literature.